Three Stingers join CFL
Robertson selected 11th overall by Blue Bombers, Ionita and Spencer also drafted
May 8, 2013
|
Source: Recreation and Athletics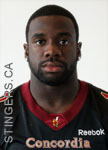 Concordia Stinger defensive back and return specialist Kris Robertson was selected 11th overall in the second round by the Winnipeg Blue Bombers in the CFL draft on May 6.

"It's very humbling and I'm proud to be a Blue Bomber," says the 22-year-old native of Pickering, Ont.

Robertson is the fourth Stinger heading to the Winnipeg training camp in a few weeks. He will join veteran long snap Chris Cvetkovic, slotback Cory Watson and punter Mike Renaud.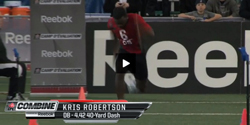 The fourth-year sociology major made a name for himself at two CFL combines in March. Weighing in at 185 pounds, he did 17 reps of 225 pounds on the bench press at the CFL regional evaluation in Quebec City. A few days later in Toronto he wowed the professional scouts by winning three of the six testing categories at the CFL combine. He ran a 4.42 40-yard dash. His vertical leap was 43 inches and his broad jump was 10 feet, 5.5 inches.

As a returner, Robertson was named to the second CIS all-Canadian team in 2012. He was a first team all-Canadian in 2011.

Last fall, playing in nine games in the Réseau du sport étudiant du Québec (RSEQ) conference, he returned 32 punts for 297 yards, while adding another 636 yards on kickoff returns. He averaged 115.8 all-purpose yards a game.

Robertson was also a starting halfback for the Stingers. He led the RSEQ in interceptions with four, taking two of them back for touchdowns. He had six pass breakups and 27.5 total tackles.

Punter Dumitru Ionita was selected 59th overall in the seventh round by the Calgary Stampeders. He wrapped up his university career in 2010 when he led the RSEQ with a 42.5-yard average over nine games. He continued to play football in the junior ranks and returned to Montreal in March to train with Concordia head coach Gerry McGrath in preparation for the draft.

Finally with the last pick in the draft – 60th overall in the seventh round – the Toronto Argonauts selected Stinger defensive back Paul Spencer.

He played his last two seasons of Canadian Interuniversity Sport (CIS) eligibility with the Stingers in 2010 and 2011. During the two seasons, he played 16 games collecting 56.5 tackles and one interception. Since then he has been helping Concordia as a defensive back coach for spring camp.

Concordia leads RSEQ in drafts
The RSEQ football conference saw nine players selected. Concordia led the way with three picks. The Laval Rouge et Or and Bishop's Gaiters each had two players selected, while the Sherbrooke Vert et Or and Montréal Carabins each had one athlete drafted.

Related links:
• Stingers.ca
• Recreation and Athletics
• "Stinger shines at professional football camp" — NOW, March 27, 2013


---