Yes she Cannes!
Concordia alumna screens first feature film in prestigious festival's official selection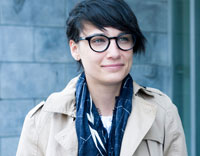 At age 25 and just three years out of film school, Quebec City native Chloé Robichaud is heading for the red carpet — for the second time — at the famed Cannes Film Festival. Robichaud's short film Chef de meute competed in Cannes' official selection last year.

With her first feature film, Sarah préfère la course, the Mel Hoppenheim School of Cinema graduate will compete alongside Sofia Coppola in the Un Certain Regard category.

"I feel so honoured to appear with Coppola," she says of her idol. "It's a bit surreal. I'm really grateful and happy for this opportunity to promote the film."

The determined young director believes her film stands out for its authenticity. "It's minimalist and hyper-realistic," she says. "It's about a woman runner who is really focused on her sport; not your typical feminine role."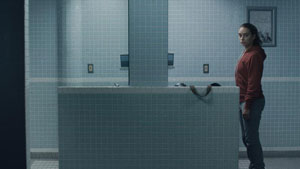 Main character, Sarah, is a track star whose financial difficulties threaten to derail her dream of accepting a spot on the McGill University track team, far from her suburban Quebec City home. Not willing to give up, she finds a way to become eligible for more generous loans and bursaries — by agreeing to marry her supportive boyfriend. The young bride soon realizes she faces many more hurdles in her relationship than on the track.

Fellow cinema graduates involved with the production — and accompanying Robichaud to Cannes — are producer Fanny-Laure Malo, BFA 10; director of photography Jessica Lee Gagné, BFA 12; artistic director Bruno-Pierre Houle, BFA 10; and first assistant director Catherine Kirouac, BFA 12. Another film studies graduate Alice Black, BFA 93, is among the festival's jury members.

Part-time Concordia instructor Micheline Lanctôt — who introduced Robichaud to directing through her course — also stars in the film as the athletic coach.

Robichaud credits Concordia for instilling a sense of creative freedom in her filmmaking. It's also where she developed many enriching relationships that have grown into a strong network.

The Mel Hoppenheim School of Cinema's reputation as "Canada's best cinema school," she says, is what initially attracted Robichaud, who earned her BFA in film production in 2010.

"What I liked about the film production program is that we had the freedom to create. The professors really want you to experiment and that's why there are so many great filmmakers that come from Concordia," she adds.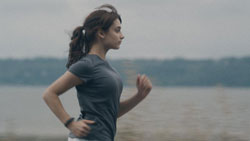 "Internationally they say that Quebec cinema is experiencing a new wave. I think there's something special happening here. Quebec films are being shown at major festivals: Berlin, Locarno and Tribeca. They have been featured at the Oscars three years in a row. It's an inspiration for filmmakers like myself."

Robichaud's short film Chef de meute was nominated for best short film at this year's Canadian Screen Awards and Quebec's Jutra Awards. It was named among the Toronto International Film Festival's Canada's Top 10 in December.

"When you're a kid, you dream about going to Cannes. It's such a prestigious event, it can be a little intimidating but you have to remember to focus on what you have to do: promote the film so it continues to have a life after Cannes," she says, reflecting on last year's Cannes experience.

One of the highlights? She found herself a few feet away from French actor Marion Cotillard, one of her favourites.

The Cannes Film Festival runs May 15 to 26. Sarah préfère la course will be released in Quebec on June 7.

Related links:
• Trailer Sarah préfère la course
• Chloé Robichaud
• Cannes Film Festival
• "Great expectations: Montreal's Chloé Robichaud goes to Cannes" — Globe and Mail, April 21, 2013
• "Young filmmaker makes waves" — NOW, June 5, 2012
• Concordia's Mel Hoppenheim School of Cinema
---