Top athletes honoured at Stingers banquet
Awards bestowed for academics, athletics and community service
May 1, 2013
|
Source: Recreation and Athletics
Top Concordia Stingers were recognized for their athleticism, academics and community service at the annual Concordia Stingers gala awards banquet, attended by more than 400 people on April 20.

Basketball player Kaylah Barrett was named Female Athlete of the Year and wrestler David Tremblay earned the title of Male Athlete of the Year.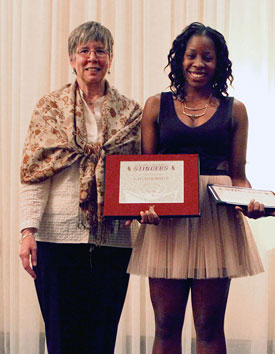 Kaylah Barrett accepted the Sally Kemp Award, which is presented to the Concordia Female Athlete of the Year. This exceptional third-year athlete was a big contributor to her team's success in 2012-13. She helped the Stingers post an 11-5 win-loss record in conference play and finish the season with a silver medal in the RSEQ playoffs (Réseau du sport étudiant du Québec). She was also instrumental in helping the team win two tournaments, including the Concordia-Reebok showdown that saw the Stingers beat the No. 1-ranked Windsor Lancers.

The Brampton, Ont., native earned her second straight all-Canadian honour and her second straight RSEQ MVP title. She was named a Quebec conference all-star for the third time. On five occasions, she was Concordia's Female Athlete of the Week.
This season, she played 28.9 minutes per game and averaged 15.2 points a contest.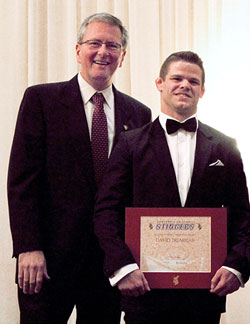 David Tremblay was the recipient of the Dr. Robert J. Brodrick Award presented annually to the top male athlete at Concordia University.

A native of Stoney Point, Ont., Tremblay won his fifth gold medal in as many years when the CIS wrestling championships were held at Western University on March 2. He dominated the University of Alberta's Dylan Williams 7-0 and 9-2 in the final of the 61-kilogram division. Tremblay earned first team CIS all-Canadian honours for his efforts and was named the outstanding male wrestler in CIS. His success helped Concordia's men's team finish fourth at the nationals.

Over the course of the year, Tremblay won all three tournaments in which he competed as a member of the Stingers. He was undefeated in all three, posting a perfect 10-0 record.

In the summer of 2012, Tremblay represented Canada at the London Summer Olympics. Before – and afterwards in the fall – he did a lot of community work, speaking mostly to young students about his Olympic journey. While attending one of his many commitments, he received a prestigious Queen Elizabeth II Diamond Jubilee Medal that acknowledges significant contributions and achievements by Canadians.

A complete list of award winners follows.

Ron Lapointe Award for academics, athletics and community service – Kyle Kelly, men's hockey

Denise Beaudet Award for academics, athletics and community service – Jaymee Shell, women's hockey

Male Rookie of the Year – Jordan Steen, wrestling

Laurie Brodrick Award/Female Rookie of the Year – Bianca Farella, women's rugby

Fittest Female Athlete – Audrey Morand, hockey

Fittest Male Athlete – Kris Robertson, football

Marvin Cooper Award - presented to a student-athlete who has successfully overcome adversity – Samantha Bennett, rugby

President's Award (combination of athletics and academics) - Marc-André Lewis, football; Kimberly Dextras-Romagnino, women's soccer

Michael Di Grappa Award of Distinction - for career contribution to Stingers – David Tremblay, wrestling

Director's Shield – presented to those who have made exceptional contributions to the Stingers programs – Andrea Davidson, Gail McInnis

Men's MVPs
• Baseball: Mark Nadler
• Basketball: Evens Laroche
• Cross-country: Ryan Noel-Hodge
• Football: Nathan Taylor
• Golf: Jacob Peterson
• Hockey: Alexandre Monahan
• Rugby: Marc Roche
• Skiing: Henri Brillon
• Soccer: Andrew Bryan
• Wrestling: David Tremblay

Women's MVPs
• Basketball: Kaylah Barrett
• Cross-country: Elizabeth Morusa
• Golf: Laurence Dussault
• Hockey: Emilie Bocchia
• Rugby: Jackie Tittley
• Skiing: Amélie Lemelin
• Soccer: Jennifer Duff
• Wrestling: Linda Morais

Male Rookies
• Baseball: Jean-Christophe Paquin
• Basketball: Laurent FitzGerald
• Cross-Country: Francis Dumoulin
• Football: Roman Grozman
• Golf: Rodney Morgan
• Hockey: Youssef Kabbaj
• Rugby: Joseph Fulginiti
• Skiing: Frédéric Lynn
• Soccer: Gabriel Quinn
• Wrestling: Jordan Steen

Female Rookies
• Basketball: Marilyse Roy-Viau
• Cross-Country: Chloe Rochette
• Golf: Karoline Trudeau
• Hockey: Jillian Ferguson
• Rugby: Bianca Farella
• Soccer: Shauna Zilversmit
• Wrestling: Malka Windheim

Related links:
• Recreation and Athletics
• Stingers.ca
---