Benoit-Antoine Bacon appointed provost
Concordia alumnus begins his five-year term on July 1 as provost and vice-president, academic affairs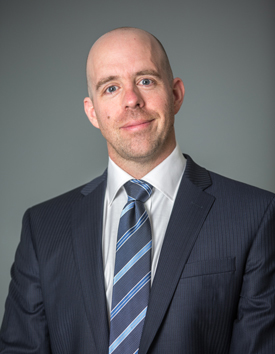 Concordia's Board of Governors has approved the appointment of Benoit-Antoine Bacon as provost and vice-president, academic affairs, for a five-year term beginning July 1, 2013.

Bacon, who is currently dean of the Faculty of Arts and Science and associate vice-principal – research at Bishop's University, is an alumnus of Concordia.

"I am pleased to welcome Dr. Benoit-Antoine Bacon as Concordia's new provost," says Concordia President Alan Shepard. "Our search committee was impressed by his scholarship credentials, administrative experience and commitment to excellence and innovative thinking."

Bacon holds a PhD and an MSc in neuropsychology from Université de Montréal, as well as a BA Honours in psychology from Concordia University. After obtaining his PhD in 1999, Bacon travelled and worked in Europe before completing a two-year post-doctoral fellowship at the University of Glasgow, which was funded by the
Natural Sciences and Engineering Research Council of Canada. He returned to Canada in 2003 to take up a teaching position at Concordia, and has been at Bishop's since 2004.

"I am very excited to return to my alma mater and take up new challenges at one of Canada's most dynamic universities," says Bacon. "This is an important period in Concordia's development and I can't wait to begin to work with our faculty on making our university an even greater place to teach and learn."

At Bishop's, Bacon began as assistant professor of psychology in 2004 and was appointed chair of the Department of Psychology in 2008. He was academic chief negotiator for the association of professors on key collective agreements from 2008 to 2010. He has been dean of the Faculty of Arts and Science since 2011, and in addition has been associate vice-principal of research since 2012. He was granted full professorship in 2012.

In addition to his administrative responsibilities, Bacon has continued to teach and to be involved in research. His primary research interests are within the fields of visual neuroscience. By combining psychophysics and a variety of brain recording techniques, he investigates the links between brain physiology and visual perception. Specific themes include 3D vision, visual illusions, visual awareness, audio-visual interactions and brain plasticity/reorganization. He was granted the university's Merit Award on three occasions for exceptional performance in teaching and research.

He remains active in cognitive neuroscience through his involvement with the Centre de recherche en neuropsychologie et cognition, which is funded by the Fonds de la recherche en santé du Québec. He is also involved in research projects funded by Health Canada and the Canadian Institutes of Health Research with the Bishop's Psychological Health and Well-being Research Cluster, which he co-founded.

Bacon has published many articles in well-recognized international peer-reviewed scientific journals such as Psychological Science, Journal of Vision and Neuropsychologia. Bacon has been recognized at Bishop's as an engaged citizen at the university and in the community. He has served on the board of governors of both Bishop's and Champlain Regional College. He is also a tenor with the Bishop's University Singers.

"In announcing our new provost, I am extremely grateful to Lisa Ostiguy, who has served Concordia as interim provost since September," says Shepard. "She accepted important additional responsibilities at a critical time in our academic planning and budget process, which has helped us immensely in preparing for the future.

"I also thank the members of our search committee, who were unanimous in their recommendation of Dr. Bacon," he adds. "They completed this important service to our community in timely fashion and with great diligence in making the best choice from a field of strong candidates."

The members of the advisory search committee, which met several times during the fall of 2012 and winter and spring of 2013, were: Liselyn Adams, Shimon Amir, Graham Carr, David Douglas, Charles Draimin, Nabil Esmail, Vince Graziano, Lucie Lequin, Gene Morrow, Marie-José Nadeau, Dan Parillo, Daria Saryan and Peter Stoett.
---