Helping students manage their money
Workshops teach students about financial literacy and applying for Quebec student financial aid
Students wishing to apply for Quebec student financial aid (Aide financière aux études, AFE) should do so well before the start of their studies. But who is eligible and what kinds of documents are required to apply? These questions and more will be addressed by the Concordia Financial Aid and Awards Office in a series of workshops beginning May 1.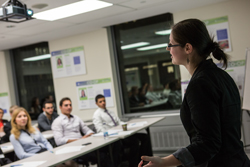 "We'll be having AFE application workshops for students who want to apply for Quebec loans and bursaries but know nothing about them," explains Financial Aid Advisor Judith Lashley. "The workshops will explain the AFE, how it works, how the loan and bursary calculation is done and so on."

Lashley recommends students not wait until the last minute to apply for Quebec financial aid. "The earlier students send their applications in, the better. It can take a minimum of six to eight weeks for the government to process their file."

The Financial Aid and Awards Office will also hold workshops to tell students about its other services and to teach students about budgeting.

"We're holding a general workshop about what services we provide, what types of funding are available, and how we can help students," says Lashley. "New this year, we will also have a series of budgeting workshops. The introduction to budgeting session is designed to be fun and to give students a true overview of what a budget should do. In the hands-on session, students will create a faux budget to learn how it's done and how to set one up."

The Financial Aid and Awards Office holds walk-in clinics every afternoon, and students can also book appointments if they wish to discuss their finances one-on-one with a financial aid advisor.

"We're reaching out to students early to help them start their financial aid application on time and with the best information, right from the beginning," says Stephanie Sarik, interim registrar and director of the Financial Aid and Awards Office. "There are many factors to consider when applying for government loans and bursaries. Our goal is to provide students with useful tools and information that explain these processes and help make them easier to manage."

Students can find out more about FAAO workshops and workshop registration on the Financial Aid and Awards web page.

Related links:
• Financial Aid and Awards Office
• Aide financière aux études
---