Coursepacks go digital
Concordia will be the first university bookstore in Quebec to offer digital coursepacks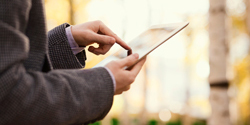 Concordia University will soon be the first university bookstore in Quebec to offer digital coursepacks. In a pilot program that kicks off the summer 2013 term, six e-coursepacks will be available for purchase.
e-coursepacks, which represent a savings of up to 50 per cent compared to a paper coursepack, will be listed within student booklists.
"The advent of e-coursepacks is in line with Concordia's sustainability objectives. This pilot program also provides us with an excellent opportunity to learn more about emerging digital educational approaches," says Ken Bissonnette, operations and text manager for the Concordia Bookstores.
e-coursepack access codes will be sold online at campusretailstores.ca and at the bookstore. Digital coursepacks will be accessible via computer, phone, iPad – any device with an internet connection. Features include the ability to highlight, underline, and add notes, drawings and annotations, all of which are saved automatically.

e-coursepacks available this summer are:
• ANTH/SOCI 747 – The body social;
• ELEC 275 Principles of Electrical Engineering;
• ELEC 370 Modeling and Analysis of Physical Systems;
• ENCS 282 Technical Writing and Communication;
• RELI 216 Encountering World Religions; and
• SPAN 301 Grammar and the Process of Writing 1.
An additional 25 to 30 e-coursepacks will be added for the fall term. "This initiative reinforces a direction in the Campus Retail Stores' strategic plan of striving to be a complete distributor of educational material, including digital content," says Daniel Houde, director, Campus Retail Stores.

Related links:
• Campus Retail Stores
• Concordia signs deal with COPIBEC
---