Native residential schools under the microscope
Two-day conference to examine legacy of residential schools in Quebec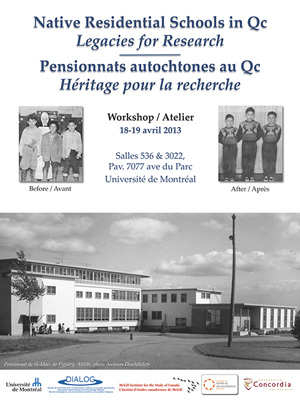 An upcoming conference, being held April 18 and 19 at the Université de Montréal (UdeM), will provide an opportunity for the academic community to support the ongoing work of the Indian Residential Schools Truth and Reconciliation Commission (TRC).

Representatives of the TRC sent out a request to universities to engage their scholars around the commission's mandate. The conference is being organized as a direct response to that request, says Associate Professor Karl Hele, director of First Peoples Studies in Concordia's School of Community and Public Affairs. "The conference will lend support to the TRC mandate of bringing about reconciliation through the open sharing of knowledge."

The bilingual conference, co-organized by Hele and Professor Marie-Pierre Bousquet from the Department of Anthropology at UdeM, will feature presentations by several leading scholars of the residential school system in Quebec, residential school survivors, and aboriginal filmmakers.

The two-day event is an important opportunity for academics to discuss the legacies of the schools, share their research findings and direct future research. But the organizers also hope to attract members of Quebec's indigenous communities, students, teachers, and other individuals with an interest in learning more about the residential schools.

"We want to emphasize the sharing of knowledge between all participants, and no one form of knowledge will be prioritized," Hele says.

Hele says the conference is also an important chance to provide some visibility to Quebec's own residential schools legacy, which is often overlooked in the larger national discussion. The timing is key, as well, since the TRC will wrap up its tour of Quebec with a national event to be held in Montreal from April 24 to 27.

"Many Canadians and Aboriginal peoples are unaware of the schools' legacy within the
province, partly due to the language barriers and overall emphasis on the western
Canadian schools experience," Hele says.

Beginning in the 1870s, some 150,000 native children were taken from their families and enrolled in Canada's state-sponsored, church-run residential schools system. The schools, part of the colonial system, were designed to "civilize" children by removing them from their families and communities.

Many of the students suffered mental, physical, and sexual abuse, and all faced conditions described by leading researchers as persistent neglect. At some schools, as many as half of the students died, either due to illness, suicide, or mistreatment. In 2007, a $1.9 billion settlement was paid out to the victims of the residential schools.

The TRC was established in 2008 to provide an opportunity for residential school survivors to share their experiences in a culturally appropriate setting.

Related links:
• Truth and Reconciliation Commission of Canada
• TRC Quebec National Event
• Karl Hele
---