Creating Inclusive Spaces
Registration open for third and final Living Knowledge dinner and discussion
What do we mean by inclusivity, or accessibility? What does it mean to create an inclusive space? Are classrooms really accessible and inclusive? Is it possible to create hybrid spaces for learning, open to the community and registered students alike?

These are just some of the questions the organizers of the third Living Knowledge event, titled Creating Inclusive Spaces, are hoping attendees will tackle.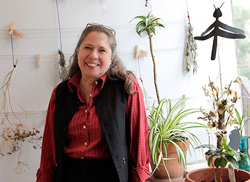 The dinner and discussion will begin with a presentation by Assistant Professor Janis Timm-Bottos from Concordia's Department of Creative Arts Therapies on her work with art hives. Timm-Bottos has been involved in the development of these small, free community art studios for the past 20 years, most recently in the Montreal neighbourhoods of St. Henri and Ahuntsic.

"The studio provided opportunities to share abilities and develop leadership skills while giving back to the community," Timm-Bottos explained recently.

Following her presentation, attendees will assemble into smaller groups to discuss opportunities for creating similar blended learning spaces where members of the community and students can share their knowledge and ideas.

"The art hive is an actual physical space that's open and accessible to the community," says Allison Gonsalves, who is organizing the Living Knowledge series with Eryn Fitzgerald from Sustainable Communities Partnership. "We want to see what kinds of questions get raised in these spaces that we wouldn't normally broach in a classroom environment."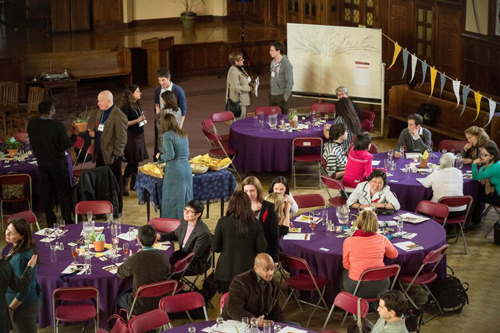 The second Living Knowledge Series dinner and discussion, titled Cultivating Experiential Learning, was another success, generating lively discussions and creating a wonderful networking opportunity for community members and Concordia students, staff and faculty.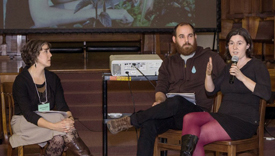 The event began with Gonsalves interviewing the organizers of Concordia's City Farm School, Jackie Martin and Marcus Lobb. "We talked about their inspiration in developing the City Farm School, how they arrived at their model, and about experiential learning in general," Gonsalves recalls. "Then we talked about how experiential learning can provide an opportunity for students to actually do work in the community that's potentially risky. They developed their program so that there is a way to manage that risk, so students can learn through trial and error."

The discussions that followed centred around opportunities for experiential learning both at Concordia and in the surrounding community. "There was a lot of conversation about how much we value learning that's grounded in experience, that is situated in the community, and also has the potential to give back to the community," Gonsalves says.

The theme of inclusive spaces is a perfect fit for the final event of the Living Knowledge series of dinner and discussion events, Gonsalves adds. "It kind of pulls in all these questions that we've been talking about throughout the series about teaching and learning and also about research, and community connections."

When: Tuesday, April 16, 2013, from 5 to 8:30 p.m.
Where: Sir George Williams Campus (Guy-Concordia metro). Venue details are made available at registration, which is now open.

Related links:
• Sustainable Communities Partnership
• "Making meaningful connections" — NOW, February 5, 2013
• "Cultivating Experiential Learning" — NOW, March 6, 2013

---