Concordia case competition lovefest
Year-end gala celebrates banner year for the John Molson School of Business competition program
"So, how good are we?" Those words from Steve Harvey, dean of the John Molson School of Business (JMSB), were met with much cheering from students, coaches, faculty and staff involved in the school's case competition program.

They had gathered at the John Molson Competition Committee (JMCC) Gala on March 26 to celebrate the year's achievements. The annual event, held in the Molson Brewery's John Molson reception room, was a boisterous affair and student competitiors filled the room with JMSB songs and team cheers.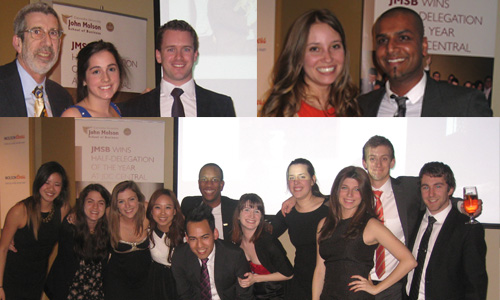 It has indeed been a good year for the competitions program. Since the season began in August, JMSB students have won competitions focused on a variety of topics, including business ethics, strategy, accounting, finance and human resources. In January, a team of Concordians defended their title at Ryerson's Organizational Behaviour Case Competition, winning it for the fourth consecutive year.

Harvey called students who compete for JMSB the school's ambassadors and talked about how competition serves as an instrument for learning. "You may not realize it now," he said. "But one of the most important things that you will take away from the experience of having been involved in competition is what it teaches you about yourself. It teaches you what you're good at and also what you're not as good at. And this teaches you trust."

Harvey acknowledged the hard work and dedication of the program's volunteers and coaches, which drew more applause, but the evening's warmest reception was reserved for Mark Haber, head coach and advisor to the competition program for the past 17 years.

"What an amazing year!" Haber said in his speech, in which he thanked the outgoing committee president, Kristen Law, a marketing student who will graduate in June, for creating a positive and encouraging atmosphere. He then welcomed the incoming president, decision sciences and management information systems student Chris Carpini. "You've got some big shoes to fill, young man," he offered.

Haber talked about the growth and success of this year's program. "We added 12 students this year, participated in 32 competitions worldwide, fielded 64 academic teams and reached the podium 35 times. And we still have five competitions to go!"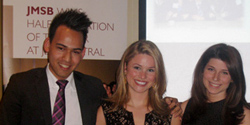 Three of those podium finishes came in the past two weeks. A 40-person JMSB delegation placed third at Happening Marketing (HM), an annual competition hosted by HEC Montréal. HM is the biggest marketing case competition in Eastern Canada with 450 participants from 12 business schools. The previous week, a team of JMSB undergraduate students won the Universidad de Navarra International Case Competition in Spain, where Katerina Fragos, a JMSB finance student, also took home the Best Speaker Award.

With just a handful of competitions left in the season, JMSB can still best its record for podium finishes set last year, when students reached the podium 37 times. "It would be great if we could top that," says Haber, "but as far as I'm concerned, this is already the best year we've ever had. "

Related links:
• John Molson School of Business
• John Molson Competition Committee
---