Stinger shines at professional football camp
Kris Robertson puts on impressive performance at Canadian Football League Combine
March 27, 2013
|
Source: Recreation and Athletics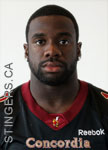 Concordia Stinger defensive back and return specialist Kris Robertson turned a lot of heads with a spectacular performance at the Canadian Football League (CFL) Combine held in Toronto March 22 to 24.

The camp is designed to evaluate the top Canadian players eligible for the CFL's draft on May 6. Typically, the top performers go on to a career in professional football.

Robertson finished first out of 54 players in three of the six testing categories. He ran the 40-yard dash in 4.42 seconds; his vertical leap was 43 inches; and his broad jump was 10 feet, 5.5 inches. He also did well in one-on-one drills covering the top receivers at the camp.

Ironically, Robertson was not initially considered among the top prospects for the CFL draft and was not invited to the Toronto camp. He had to participate in a supplemental camp and excel under the intense scrutiny of the professional scouts before earning a last-minute invitation.

On March 20, he attended the CFL Eastern Combine in Quebec City. There, the fourth-year Stinger ran the 40-yard dash in 4.48 seconds. Out of 31 participants, it was the fastest time recorded. His vertical leap was 39 inches, also the best of all the athletes tested.

Robertson, a Pickering, Ont. native, was named to the second team Canadian Interuniversity Sport (CIS) all-Canadian team in 2012. He was a first team all-Canadian in 2011, becoming the first Stinger in school history to earn national all-star recognition as a return specialist.
Last fall, playing in nine games in the Quebec university football conference, he returned 32 punts for 297 yards, while adding another 636 yards on kickoff returns. He averaged 115.8 all-purpose yards a game.
The Sociology major was also a starting defensive halfback for the Stingers. He led Quebec in interceptions with four. He took two of them back for touchdowns.
Watch Robertson do the 40-yard dash (CFL site) and watch him jump over a car on YouTube.

Related links:
• Recreation and Athletics
• Stingers.ca

---