Students win six trophies at Computer Science Games
Best Concordia performance ever in 11-year history of nationwide competition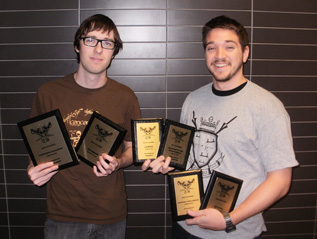 Concordia students have brought home six trophies from the 11th annual Computer Science Games (CS Games), hosted by Laval University in Quebec City, March 15 to 17. Teams from the Faculty of Engineering and Computer Science finished in first place in the Corporate Challenge category, second in Database Scripting, and third in the categories of Sports, Team Software Engineering, Gaming and Artificial Intelligence. Twenty-two teams from across Canada as well as the northeastern United States took part in the event.
Members of the Software Engineering and Computer Science Association (SCS Concordia) were delighted at the performance of the two Concordia undergraduate teams. Josh Whatley, VP Competitions for SCS Concordia, said "Our success at this year's event is a reflection of our preparation."
The selection process for competing in the games started during the fall term of 2012. A series of tryouts was held, during which students were trained to be ready for the challenges they would face.
"The competition for the 20 final spots was fierce," said Whatley, who is currently in his third year of software engineering. "An average of 40 students participated in each tryout. It was definitely very hard to select the members of the delegation for this year."
The participation was made special by the presence of many first-year students on the second of Concordia's two teams. Deven Collette, captain of the second team and VP Social at SCS, was impressed with these students. "They certainly challenged their more experienced peers," he says. "Bringing in first-year students helps us nurture a new generation of successful participants."
CS Games started in 2003 at McGill University, and later expanded beyond that university to include participants from all over North America. The competitions cover the whole range of the computing field, with topics ranging from Artificial Intelligence to Embedded Software Design. To date, more than 30 universities have participated in the CS Games, including some of the biggest names in engineering and computer science, such as the Massachusetts Institute of Technology, Harvard University and University of Waterloo.
For Whatley, and the rest of SCS Concordia, now is the time to look forward to next year's competition. "This year was a great achievement for us. We learned how to succeed. The goal now is to use this to be ready to perform even better next time around."
Related links:
---