Pop in to Pop-Up Learning Services
Exam and essay help available through Student Learning Services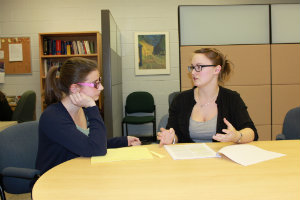 As spring approaches with sunnier days, so does anxiety many students feel about upcoming exams and essays.

Students, do not fear. Help is near! Concordia's Student Learning Services is holding Pop-Up Learning Services in the atrium of the J.W. McConnell Library Building.

"We decided to set up a satellite location to remind everyone that we're here for them," says Juliet Dunphy, manager of Student Learning Services.

The Pop-up day will present the various services available, as well as some immediate help, including:

• Plan versus panic: Students can obtain individual help to determine how to make the best use of the time available before essays are due and exams begin.
• Smart test-taking: These strategies include how to budget time per exam question, organize ideas before answering questions, and remain calm throughout an exam.
• High-octane learning: Also known as power learning, it involves actively reviewing material and identifying the concepts that are most important to master.
• Memory tests: Short quizzes will be available to help students determine the best memory cues for them and the kind of material to be recalled.
• Concept mapping: This active display of information helps students review key concepts, as well as visualize how ideas connect with each other and related subtopics.
• Mind/body connection: Staff members will share tips on how to get enough sleep and eat wisely during this stressful time of year, as well as recommend the food and drinks to avoid before stepping into an exam room.
• Apps and apples: The Pop-up Learning Service will start everyone eating right with a fresh apple, while pointing out the various online apps to help with time management.
• Creative problem-solving: Science and math students can find out how they can participate in groups to practise solving the kinds of problems that will likely be on in their exams.
• Writing assistance: Whether it's getting ideas organized before starting an essay, or going over a draft to identify gaps or passages that aren't quite clear, writing assistants can help.

Rajee Jejishergill, a master's student in art history, has used Student Learning Services to improve her studies in various ways. "At one point I was feeling distracted because of everything that I had to do for my courses, thesis and teaching assistant duties," she says. "A learning specialist helped me to map out time for writing my thesis so I wouldn't be stressed about meeting the deadline."

Jejishergill obtained tips to improve her focus. She also learned how to prepare better for writing essays. "They give you exercises to jot down all your ideas and then organize them in an outline so they're not just all in your head," she says.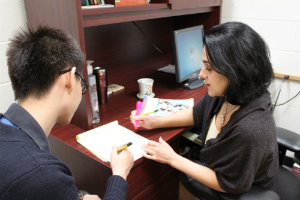 Arthi Ramachandran, a cell and molecular biology student, has regularly attended the Strategic Learning sessions for chemistry and biology courses. These are study sessions held two or three times a week for difficult courses.

"Working together, we're not running the risk of incorrectly answering questions and thinking we're right," she says. "Solving problems together builds our confidence, especially since our session leaders have taken the course in the past and can give us examples of the kind of exam questions to expect."

Students are reminded that Counselling and Development's popular Exam Cram sessions for basic Math and Accounting courses will be offered again in early April. The final schedule will be available at the Pop-Up Learning Services.

What: Pop-up Learning Services
When: Monday, March 25, from 12 noon to 6 p.m.
Where: Atrium of the J.W. McConnell Library Building (1400 De Maisonneuve Blvd. W.), Sir George Williams Campus

Related links:
• Student Learning Services
• "Top Tips for Exam Success" – NOW, November 14, 2012



---