Thrilling finish to Concrete Toboggan Race
Students win Rookie Team of the Year award
It's a foggy morning on Mount Seymour, North Vancouver. Twenty-three student teams from across Canada have come together to compete in the Great Northern Concrete Toboggan Race. Familiar for its use in dams, bridges and buildings, concrete has also enjoyed a lesser known but no-less-illustrious career in competitive tobogganing since 1974, when the first of these unconventional races was held.

Originated almost four decades ago by the Alberta chapter of the American Concrete Institute, the competition attracts engineering students from universities across Canada and sometimes the U.S. and Europe.

Designing and building a concrete toboggan isn't for your average Sunday afternoon hobbyist. For the Concordia team, it was an endeavour that called upon many of the skills they learn in the Faculty of Engineering and Computer Science. Their toboggan, weighing 247 pounds, was well under the maximum weight limit of 300 pounds. Braking was the job of two paddles that the team nicknamed "Dino Claws." The students also had to add a roll cage, a safety feature aimed at preventing the riders from spilling out and potentially being crushed by their own contraption.

Once finished, the toboggan had to be transported over 3,500 kilometres to the west coast. The team was enormously grateful to Tim Quinlan from the company Logistic Decisions, who had the toboggan packed into a crate and shipped by freight train.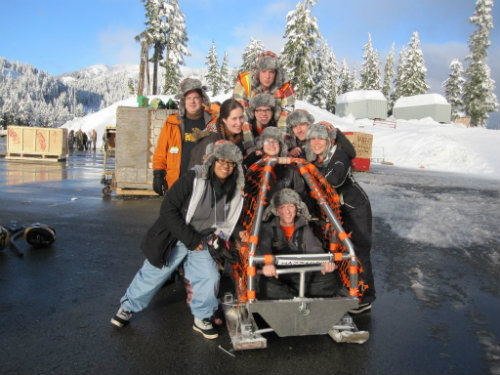 However, although the transportation issue had been resolved, the team's challenges had only just begun. Christopher Morin, team captain and a second-year civil engineering student, describes the team members' consternation when they found that "the front skis used for steering turned inward." This meant the front skis would make a snow-plough shape and, as any skier knows, the snow-plough is not synonymous with swift locomotion. The team had to make major last-minute modifications on Mount Seymour.

The dense fog delayed the race's start. When the sun eventually pierced through the clouds, the conditions were still far from ideal. Morin describes the snow as being thick and heavy, which exerted a major drag on the toboggan's movement. "A lot of teams didn't make it very far down the slope," he says.

The Concordia toboggan needed help to begin the momentum. Competitors from other schools pitched in with a big push from the start line. Morin admits to being anxious that, given the initial shallowness of the slope, the toboggan wouldn't make it past the first gate. But to the delight of the team, it did indeed pass this major milestone and from there the toboggan accelerated to 24 km/h and made it down to the finish line. Concordia was named Rookie Team of the Year. They also placed third in the competition's slalom category.

"I was ecstatic that our hard work paid off," says Morin. "It was an unbelievable experience."

Team members: Kyle Arseneau (building engineering); Steve Morse (software engineering); Andrea Cartile (mechanical engineering); Ryan Brownridge (civil engineering); Gretchen Manzano (civil engineering); Lisa Lawee (building engineering); Massimo De Lisi (civil engineering); Rachelle Sederoff (civil engineering); Christopher Morin (civil engineering).

Related links:
• About the Great Northern Concrete Toboggan Race
• Faculty of Engineering and Computer Science

---