Student plans 19,000-km run to Argentina
Would be the first ever to traverse distance barefoot from Montreal to Tierra del Fuego
"I want to be the first person to run barefoot across the Americas," declares Joseph Michael Liu Roqueñi, an industrial engineering student with a bold and ambitious plan.

Roqueñi will depart in May on a run of 19,000 kilometres from Montreal to the city of Ushuaia on the southern tip of Argentina.

In training since August 2012, he is building toward the pace that he will need to maintain to achieve his goal: two daily runs of 25 kilometres each, five days a week. If he can keep that up, he'll arrive at his destination 18 months after his departure. And he plans to do most of it in bare feet.

"You develop very thick calluses," he says. "I've run in dirt, snow, grass and gravel. It's doable."

Roqueñi was born in Richmond Hill, Ont., in 1981. His mother, Mexican by birth, grew weary of the Canadian winter and moved the family to Guadalajara seven months later. All of Roqueni's youth was spent in the Mexican city, where he attended the Universidad Panamericana until 2002. At that point, he followed two of his brothers who had moved back to Canada. He was curious about the country of his birth, and he wanted to complete his education, and get work.

In Mexico he had played ice hockey. In Canada, ironically, he abandoned the winter sport in favour of cross-country running. "I've always been someone who loves the outdoors and sports," he says.

He trained with Concordia's cross-country team and competed twice at the provincial level. In 2011, he logged a time of one hour and 23 minutes to complete 21 kilometres. It was also the year he started running barefoot.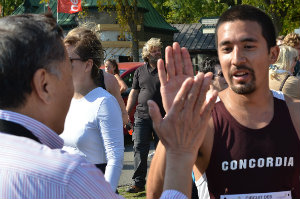 For his run to Argentina, Roqueñi estimates he will need to consume about 6,000 calories per day. He will be travelling with a backpack containing a tent, sleeping bag and other essentials. The bag's total weight will be five kilograms, so he will need to obtain most of his food at pit-stops along the way. He is well aware of the need to give his body time to recover from the punishing runs. He will run in the morning, then rest for several hours, and run again in the afternoon, before taking his nightly break.

Roqueñi is seeking support for his run in the form of funding and equipment. He has created a web page where supporters can contact him as well as follow his progress during the run.

Several companies and organizations have supported Roqueñi so far. They include:

Arts and Science Federation of Associations
Concordia Student Union
Discovery Trekking Outfitters
Engineering and Computer Science Association
Klymit
Salomon (Ste-Catherine Street location)
Lululemon (Green Avenue location)
iKo! Excursions

Related links:
• Follow Joseph Michael Liu Roqueñi on his web page
• Department of Mechanical and Industrial Engineering
• Faculty of Engineering and Computer Science
---