Short works in short time
Plays written, directed and produced by Concordia theatre students in only two months
Expect the unexpected.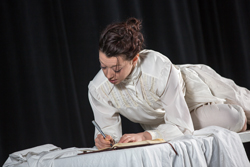 The SIPA/Short Works Festival features a variety of theatre: from a movement-based collective creation to the reworking of classic existential and feminist literature to a play based on material so exclusive, it can't be promoted by name.

The event (SIPA stands for Student-initiated Production Assignment) is a showcase of short plays written or adapted and directed by students. By opening night on March 7, five teams of Concordia theatre students will have each produced a 20-to-40-minute play in two short months, while managing all aspects of the production.
"Once you leave behind the simplicity of putting together shows in your best friends' basements, you realize that there is a lot more that goes into the full realization of a show," says Sydney Shapansky, writer and director of Not Suitable for Children, a new play based on the real-life murder of toddler James Bulger.

Twice a year, students in the Department of Theatre can submit a proposal for writing, directing, designing, stage-managing or acting in a play of their choice. Once a proposal is accepted, students form their own production teams comprised of both theatre peers and students from other areas of study. All SIPA participants receive academic credit for their participation.

The assignment also allows students to take on tasks that they wouldn't otherwise perform in their respective areas of study. Performance major Natasha Perry-Fagant broke away from her usual role as an actor to adapt Charlotte Perkins Gilman's landmark 19th-century short story The Yellow Wallpaper. "The SIPAs allow you to take work that you previously started, further," she says. "I'd been working on my adaptation for a year, but I wouldn't have been able to produce it without this opportunity."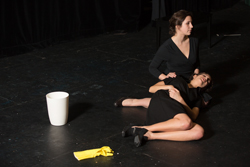 Vishesh Abeyratne, who majors in playwriting, adapted a short story by a well-known author last fall. He chose the source material because of its compelling subject about the dark side of human nature and is now rehearsing the play for the festival. But in preparing the piece for production, he ran into an unexpected problem. "My adaptation ended up staying pretty true to the original – and I'm proud of it. But at first, the publishing house said that the rights to adapt the story for the stage weren't available," he says.

After several follow-up emails to the publishing house by Raymond Marius Boucher, SIPA supervisor and assistant professor, Abeyratne obtained permission to stage the play, but without promotion or documentation. As such, his play is being billed as Untitled. Still, he's been able to stretch his creative wings further than he originally imagined.

"I'm actually acting in the play too," he says. "As a writer, it's not always easy to hear actors say your words but it is thrilling. And in an acting role, it's interesting to explore how each character plays off of each other."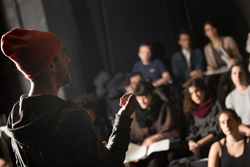 Vanessa Caicedo's Idem Eadem Idem is all about people riffing off one another. Her movement-based piece was created by a six-person collective. "When you design a collective creation from scratch, it's nerve-wracking but really rewarding," she says. "In fact, we're still in the creation process. We expect that our play will only be ready a few days before opening night!"

Helena Roy Magee, stage manager of Whirligig, an adaptation of Jean Genet's The Maids, said that the Idem Eadem Idem team wouldn't be the only team in a state of last-minute panic. "In theatre, nothing is ever really final when you put in on stage," she says.
"You just always have to be as prepared as possible. If you don't try it, then how will you know what will work? You have to be open to the fact that your play may bomb."

Whirligig director and soon-to-be graduate Chloé Luchs Tassé concurs. "In the SIPA environment, there is room to make mistakes. But you need to be open to your team and their feedback or criticism, without the authority of a professional or faculty director," Tassé says. "But this is my last show at Concordia so I'm cradling it … I really want it to be good."

When: Thursday, March 7 to Sunday, March 10, 2013 (See full festival schedule on the theatre web page)
Where: Cazalet Studio, F.C. Smith Building, Loyola Campus (7141 Sherbrooke St. W.)
Box office: Tickets are available at the door; $5 general admission, $2 for students.

Related links:
• Full festival schedule
• SIPA Facebook page
• Concordia's Department of Theatre
• Concordia's Faculty of Fine Arts


---