Katie Sheahan to retire
Director of Recreation and Athletics will retire May 31, 2013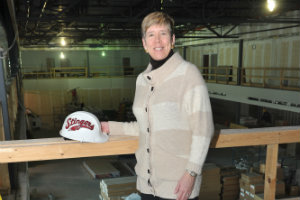 Vice-President, Services, Roger Côté, has announced that Katie Sheahan, director of Recreation and Athletics, will be retiring effective May 31, 2013, after 10 years in the post. Over that time, the department has seen significant growth in its programs and services for students.

The support of the university for the introduction of new recreation and athletics facilities on both campuses: the two artificial outdoor playing fields, Le Gym, the Stinger Dome, Recreation and Athletics space in the new PERFORM Centre and soon, a renovated Ed Meagher arena, has been the key to these developments and the work continues.

"We would like to thank Katie for her significant contribution to Concordia's Department of Recreation and Athletics and for her years of dedication to the recreation and athletics program," says Côté. "Her enthusiasm, energy, and vision are a few of the admirable qualities that describe her. She will be missed by students and colleagues alike. We wish her well as she starts this new chapter in her life."
Sheahan also made a noteworthy contribution to the Student Services directorate when she concurrently held the position of interim director of Counselling and Development in 2009.
The Concordia University Alumni Association awarded Sheahan the Humberto Santos Award of Merit in 2008 for her many achievements. Her passion, however, has always been the success of the recreation and athletics program. Sheahan will be remembered for her commitment to Concordia's sports teams as well as for her mantra, GO STINGERS!
Under Sheahan's leadership, Concordia's recreation and athletics program thrived and the university hopes to build on the tremendous progress she made in developing the recreational facilities at Concordia.
In view of the important work that lies ahead to move our facility development goals for Recreation and Athletics forward, we are modifying the reporting structure for the department. Effective, February 25, 2013, the director of Recreation and Athletics will report to the Vice-President Services while remaining a member of the Student Services directors' team led by Associate Vice-President, Student and Enrolment Services, Bradley Tucker. The Vice-President Services will carry out a search process for the new director of Recreation and Athletics in the months ahead. Details about this process will be communicated shortly.

Related links:
• Department of Recreation and Athletics
• Services Sector
---