Men's basketball set for showdown with Bishop's
Competition tight for top spots in conference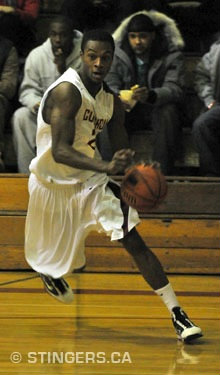 When the Concordia Stingers men's basketball team hosts the Bishop's Gaiters on Thursday night, the outcome will have a big impact on the Réseau du sport étudiant du Québec playoffs.

If the Bishop's Gaiters, who boast a 10-5 win-loss record, dominate Thursday night's game against the Concordia Stingers, they will lock up one of the top two spots in conference play and a home playoff game. On the other hand, if the Stingers, who have an 8-6 win-loss record are victorious, they will have the opportunity to move into one of the top two places, depending on the outcome of the games on the last day of the regular season, this Saturday.

One thing is for sure. If Concordia loses to Bishop's, the team will finish in third place and travel for a semifinal game on Wednesday, February 27.

The Stingers have won two of the three matchups between the teams this season. They beat Bishop's 77-76 on November 17 and 82-68 on January 19. The Gaiters won the last contest 84-71 on February 10.

Stingers players to watch for include Evens Laroche and Kafil Eyitayo, both of whom are playing the last regular season home game of their careers.
Laroche had 22 points the last time the teams met. Eyitayo had one of his biggest games of the season with 10 rebounds and three blocks in the 82-68 victory on January 19.

Thursday's doubleheader begins with the women's game at 6 p.m. The men will play at 8 p.m.

What: Stingers women's basketball
When: Thursday, February 21 at 6 p.m.
Where: Concordia Stinger Dome, Loyola Campus (7200 Sherbrooke St. W.)

What: Stingers men's basketball
When: Thursday, February 21 at 8 p.m.
Where: Concordia Stinger Dome, Loyola Campus (7200 Sherbrooke St. W.)

The Stingers wrap up the regular season with a double bill on the road versus the Laval Rouge et Or on Saturday, February 23, beginning at 5 p.m. with the women's game.

Related links:
• Stingers.ca
• Recreation and Athletics
---