Turning pucks into bucks
Long-standing community hockey league nets $3,200 in support of Concordia student athletes
Long-time professor Randy Swedburg retired from Concordia five years ago, yet he remains part of a sporting and generous community.

The faculty-staff shinny hockey league he co-founded 25 years ago now boasts some 30 players. Three of the original players — academics Jim McIntosh, Dennis Dicks and Swedburg himself — still lace up for friendly matches.

"The hockey league cuts across all Faculties," Swedburg says from his winter digs in Florida. "It's a place where barriers get broken down because in the locker room you're all on the same level."

The league, which attracts players ranging from 30-somethings to septuagenarians, meets twice a week at the Ed Meagher Arena on the Loyola Campus.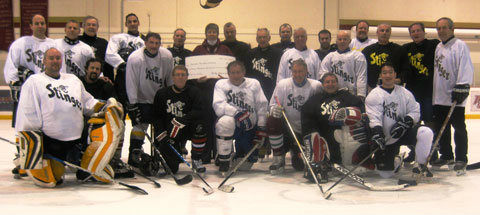 The scrimmages do more than net pucks. Swedburg and his teammates recently donated $3,200 in support of student athletes as part of the Community Campaign, the university's internal fundraising initiative. This year's theme is "Our community. Our choice."

"We hope that someone who may not have been able to get a degree will be supported and have a better quality of life because of it," says Swedburg, who taught in the Department of Applied Human Sciences at Concordia for 28 years.

The league has helped engender a culture of giving and every player has donated to the Community Campaign. Members have raised thousands of dollars for student scholarships.

It began in 1990, the inaugural year of the Concordia Shuffle, when Swedburg's teammates sponsored him for the annual walkathon in support of scholarships and bursaries. Since then, Swedburg's teammates have created two scholarships to honour his late colleagues Ross Seaman and Lanie Melamed.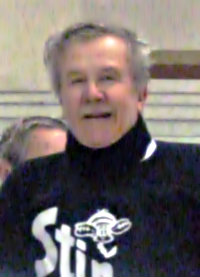 Swedburg was director of the Centre for Human Relations and Community Studies and the Centre for Mature Students (now called the Student Transition Centre). He is also a former chair of the Community Campaign and sat on its advisory committee and that of the Shuffle for several years.

"At first I was shy to fundraise, but after starting the two scholarships in the department, I realized it's the simplest thing to do," Swedburg says. "A lot of times, the reason people haven't donated is because nobody asked. We'll continue to fundraise so that more students can benefit from what we do."

Want to volunteer for the Community Campaign? Have a story to tell? Email community@concordia.ca or call 514-848-2424, ext. 3884.

Related links:
• Concordia's Community Campaign
• The Shuffle
• Concordia Department of Recreation and Athletics
• Concordia Department of Applied Human Sciences
• Student Transition Centre
• Centre for Human Relations and Community Studies

---