Arts with a cause
Students perform with and for the special-needs community
Singing, dancing and acting. Concordia students and adults with intellectual disabilities will combine their talents in a variety show that will raise funds for the Centre for the Arts in Human Development of the Faculty of Fine Arts.

Concordia's Applied Human Sciences Student Association (AHSCSA) is organizing the February 27 benefit show, which will showcase collaborative acts.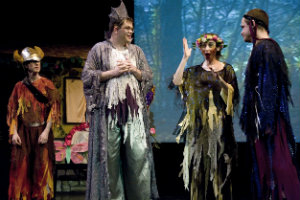 "Every performance you see will have a mixture of our participants and students of Concordia, and Craig Morrison (musician and Concordia instructor) is our special guest," says Poppy Baktis, logistical, financial and volunteer coordinator at the centre. "We have Concordia students from many faculties who will be collaborating and performing with our participants in an entertaining variety show. The evening will be filled with singers, dancers, and actors. The audience members will be amazed by the talent they will see."
Founded in 1996, the centre, located on the Loyola Campus, is dedicated to education and research. "We work with adults who have intellectual and developmental disabilities," says Baktis.
"They come here for a three-year period to work on personal development through creative arts therapies. So they do art, drama, music and dance movement therapy."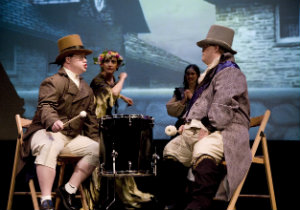 The centre also trains Concordia graduate students from the Department of Creative Arts Therapies, and conducts research into the effectiveness of creative arts therapies for people with intellectual disabilities.

All funds raised by the benefit show will go toward keeping the Centre for the Arts in Human Development and its programs running.

"We've continued to support the centre because we've seen how valuable it is for Concordia and for the special-needs community," says AHSCSA Co-President Natalie Zefrani. "The centre relies on donations, so we see the need to help it continue with its mission."

The event, which is sponsored by such groups as the Concordia Garnet Key Society, also hopes to raise awareness about the Centre for the Arts in Human Development and the people it serves.
"The Applied Human Sciences building is five minutes away from the centre at Loyola but many students on campus don't know about it and the great programs that happen there," says Zefrani. "This show is a great opportunity for us to expose it to the community and to raise funds.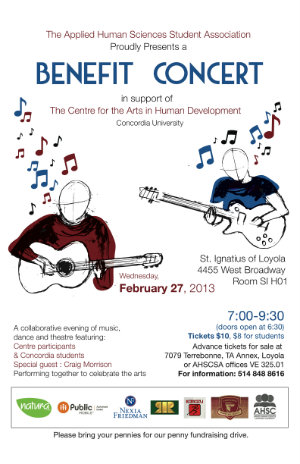 "It's also a chance for students and staff to experience an element of the true diversity that Concordia has to offer on campus. It's important to learn about the differences that staff and students are making on a daily basis at Concordia and this is the perfect opportunity to experience that."

Baktis agrees. "We try to get the word out about our population because we want people to know how awesome they are!"

Tickets for the AHSCSA benefit show for the Centre for the Arts in Human Development can be bought at the door for 10$ ($8 for students). The event will feature a penny drive and refreshments, and original crafts created by the participants will be available for purchase.

When: Wednesday, February 27, 2013, from 7 to 9:30 p.m.
Where: St. Ignatius of Loyola Church (4455 West Broadway St.)

Related links:
• CAHD
• St. Ignatius of Loyola Parish (includes map)
---