Graduate students prepare for Three Minute Thesis competition
Coaching session on February 26 helps students hone winning research pitches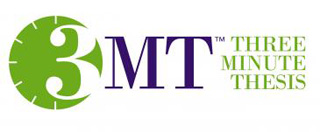 Graduate students at Concordia will once again test their ability to clearly and quickly explain what they've been working on in the lab, library or studio to a captive audience during the annual Three Minute Thesis Competition (3MT). The registration deadline for the April event is March 8.

Created in 2008 at the University of Queensland in Australia, the popular 3MT competition format has spread to universities around the globe. Concordia held its first edition of the competition last year, and it proved popular, drawing a large crowd to the J.A. DeSève Cinema.

"The quality was very impressive, as was the wide range of research topics covered; from bioengineering to women and democracy, to deforestation, to cool cities, and smart technology for urban planning," said Graham Carr, Concordia's vice-president, Research and Graduate Studies, after last year's competition.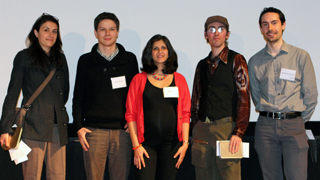 It's important for graduate students to develop strong presentation skills before they enter the job market, says Laurie Lamoureux Scholes, director of Concordia's Graduate and Professional Skills (GradProSkills) training program, which organizes the Concordia competition. "The 3MT competition allows them to develop their presentation skills in a supportive environment, while sharing their research with the community."

This year, the competition will begin with two heats — one for students in the engineering, computer science and physical science domains and another for students in the social sciences, humanities, fine arts and business areas. The final round will feature presentations by the top 10 students from each heat.
A panel of judges wil choose a winner and runner-up at the master and doctoral levels. Members of the audience will also select a winner for the People's Choice Award.

Two winners will also be chosen from among those who present in French and will represent Concordia at a similar competition at the annual conference of the Association francophone pour le savoir (ACFAS).

Carole El Ayoubi, last year's winner of the People's Choice Award, praised the competition for challenging her in new ways. "It mostly helped me gain more confidence in my communication and presentation skills, something I'm not usually confident about," she said.

Lamoureux Scholes encourages all members of the Concordia community — whether they are graduate or undergraduate students, staff or faculty members — to check out the competition. "It's a great way to find out more about some of the fascinating graduate research going on here," she says, adding that prominent members of Montreal's professional community will also be invited to attend and vote for their favourite presenter.

Registration deadline for competitors: March 8, 2013

What: Coaching sessions for interested participants
When: Tuesday, February 26 from 2 to 3:30 p.m.
Workshop information.

What: 3MT competition
When: Thursday, April 12 from 1 to 3 p.m.
Where: J.A. DeSève Cinema, ground floor of the J.W. McConnell Library Building (1400 De Maisonneuve Blvd. W.), Sir George Williams Campus

Related links:
• All about the Concordia 3MT, including related workshops
• Watch videos of the 2012 events

---