Made in Italy: Building empires
Fine Arts professor explores the global reach of Italian fashion
"Made in Italy." Those three little words speak of tradition, quality and workmanship. And according to John Potvin, an art history associate professor at Concordia and author of the soon-to-be released book Giorgio Armani: Empire of the Senses, no other designer is as synonymous with those words as Giorgio Armani.
"Armani is the poster child for the 'Made in Italy' success story," Potvin says. While the author admits that the success of the "Made in Italy" label is not entirely because of Armani, he adds that the designer "was and remains the most successful, the most determined, the most global in his reach of the 'Made in Italy' label."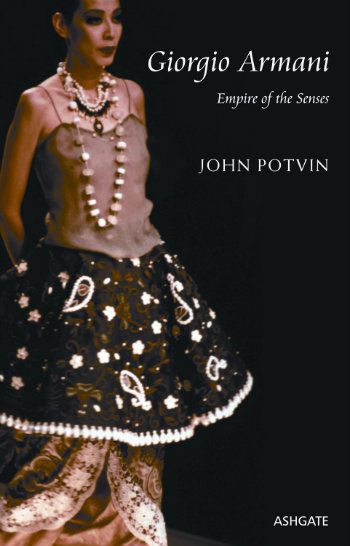 The global reach of fashion is evident in such cities as Montreal. Next week, more than 20,000 visitors, including fashion professionals, designers and media will flock to the city for Fashion Week (February 4 to 7). Empire of the Senses will be launched in the middle of this celebration.

Empire of the Senses is only the second publication to focus on Armani. The first was Giorgio Armani: A Retrospective, which was based on the 2000 exhibit at the Guggenheim Museum in New York. Focused on the artistic significance of Armani's garments, A Retrospective does not provide interpretive depth. Potvin takes a holistic approach in Empire of the Senses. He provides a critical analysis of the aesthetic value of the label while examining its economic, political and cultural impact.

"I wanted to be more critical," Potvin says. "I wanted to tease out relationships that perhaps people have not thought of before."

So what is it that sets Armani apart from the other major Italian fashion houses? For Potvin it's the designer's unwavering vision and ability to translate that into every aspect of his brand.
Rumoured to be a notorious micromanager, Armani has been affectionately dubbed "King Giorgio" by the Italian press.

"From the get go, he [Armani] knew what was essentially Armani," Potvin says. "That's why it's [Armani] become an adjective. No other designer has become an adjective, in terms of popular culture, in terms of cinema or what have you. It is the control of the final product that makes him so successful."

Since the house's inception, Armani has expanded into a multi-platform brand, manufacturing everything from suits and gowns to chocolates and furniture. While some members of the fashion media are critical of Armani's expansion, there is no doubting his attention to a definitive image that has been disseminated on a global scale and is a true empire for the senses.

Related links:
• Launch of Empire of the Senses
• Professor John Potvin
---