Make a difference as a Resident Assistant
Help first-year students make transition to university life
Want to make a difference at Concordia? Want to help first-year students with their transition to university? Want to develop and enhance leadership skills through employment? Want to live in residence?

Concordia's Residence Life department is looking for dynamic, enthusiastic, and passionate role models to be Resident Assistants (RAs) for the 2013-14 academic year.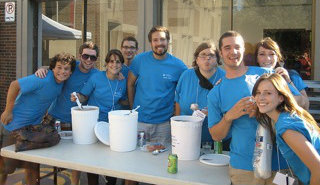 "A Resident Assistant or RA is an individual who is capable of functioning independently or as a part of a team, who is empathetic and fair, who possesses excellent leadership, communication and listening skills," says Rich SwamiNathan, manager of Residence Life. "The primary responsibility of the RA is to facilitate the growth and development of the residence community and help each student achieve their academic, social, and personal goals."

To be accepted as a Resident Assistant, students must treat this job responsibility as their primary out-of-class commitment.
Each RA will be a full-time student who lives in residence and is responsible for overseeing a section of the building, housing as many as 40 residents.

Attend an upcoming information session to learn more and apply online before the deadline: Monday, February 11, 2013.

Information Sessions
When: Monday, January 28 at 7 p.m.
Where: Grey Nuns Residence Study Lounge, Room H-R2, GN Building (1185 St-Mathieu St.), Sir George Williams Campus
Contact: Lily, lily.henderson@concordia.ca

When: Tuesday, January 29 at 7 p.m.
Where: Hingston Hall TV Lounge, Room HA-161, Hingston Hall, Loyola Campus (7141 Sherbrooke St. W.)
Contact: Rich, rich.swaminathan@concordia.ca

Related links:
• Application information
• Residence Life web page
---