Concordia earns Center of Actuarial Excellence designation
U.S.-based Society of Actuaries recognizes program's high standards in education and research
Concordia University was recently named a Center of Actuarial Excellence (CAE) by the Society of Actuaries (SOA), an international educational, research and professional organization that advances actuarial knowledge and expertise.

Concordia is one of only eight Canadian universities to achieve CAE status, a designation that is awarded for five years. To qualify for this coveted certification, the university's actuarial programs had to meet eight criteria including curriculum, graduate count and quality, and connection to industry.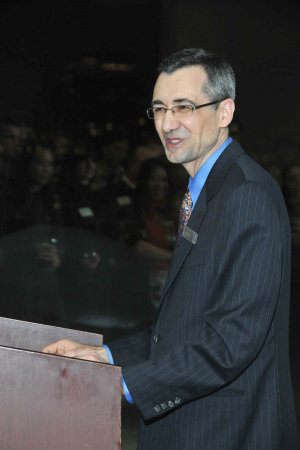 "We've been offering undergraduate actuarial programs for 30 years now, so this is a recognition of the quality of the students we graduate, the graduate education we provide, and the research that is carried out here," says José Garrido, professor of mathematics and statistics and graduate program director.
Schools designated as CAEs are eligible to apply for substantial multi–year education and research grants offered by the SOA, adds Garrido. "Every year, it's harder to get funding because of budget and government cutbacks, and there are very few scholarships available for graduate students, especially if they're international. So this is very good news, both to support our graduate students – who can apply for extra scholarships they weren't eligible for before – and to receive research money for faculty members who want to pursue special projects. It's exciting to have these new sources of funding."

Ewa Duma, the actuarial mathematics program director, coordinated the CAE application with the SOA. Concordia had applied for CAE status when the program was launched during the 2008-09 school year, but did not meet the faculty size requirement.

"We hired a new person last summer, so now we're four professors actively teaching and researching in the program, and that really made all the difference," says Garrido. "It's thanks to the commitment of the Faculty of Arts and Science that we've been able to grow in a way that we now satisfy all these criteria."

Accredited programs are more attractive to prospective students, especially those pursuing graduate studies, because of the additional funding sources, he added. "The SOA has made a tremendous effort to communicate this news about our designation; they sent a press release to all their members worldwide. They are the largest actuarial professional organization in the world. This will also have an impact when we recruit new faculty members."

Concordia offers several other programs that have been accredited nationally or internationally:

• All engineering programs offered by the Faculty of Engineering and Computer Science are accredited by the Canadian Engineering Accreditation Board.

• The John Molson School of Business is accredited by the Association to Advance Collegiate Schools of Business. Its Bachelor of Commerce (Major in Accountancy) Program is accredited by the Certified Management Accountants of Canada National Board of Directors.

• The Specialization in the Exercise Science/Athletic Therapy program is one of six athletic therapy programs accredited by the Canadian Athletic Therapists Association in Canada and it is the only accredited program in Quebec and Eastern Canada.

• The Department of Psychology's clinical training program is accredited by both the Canadian and American psychological associations and by the Ordre des psychologues du Québec.

• The MA in Creative Arts Therapies, Art Therapy Option, is accredited by the Canadian Art Therapy Association and the American Art Therapy Association.

Related links:
• SOA announces Concordia's recognition as Center of Academic Excellence
• Faculty of Arts and Science (includes departments of mathmatics and statistics, and actuarial programs, exercise science and psychology)
• Faculty of Engineering and Computer Science
• John Molson School of Business (includes Department of Accountancy)
• Faculty of Fine Arts (includes Art Therapy MA)
---