Researchers shine on TV's Salut, Bonjour!
Getting a morning fix of renewable energy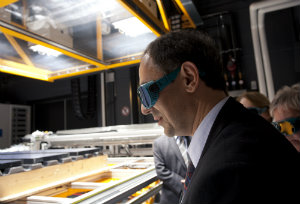 Quebec is still in the grip of winter, but in the basement of Concordia's Henry F. Hall Building, it can become instant summer with the flick of a switch. The Solar Simulator-Environmental Chamber permits the study of renewable energy in various climatic conditions. Thursday morning — January 24 — viewers of Quebec's top-rated morning TV show, Salut, Bonjour!, will get a glimpse inside this lab, the only one of its kind in the world, and will meet some of the researchers exploring the future of high-performance buildings.

When: Thursday, January 24 at 8:40 a.m.
Where: TVA's Salut, Bonjour! (Broadcast in French)

The TV crew visited Concordia late last year and met with three researchers: Paul Fazio, a professor in the Department of Building, Civil and Environmental Engineering, who currently leads research that tests the ability of building components to withstand various conditions, from Arctic cold to desert heat; Andreas Athienitis, a professor in the same department and scientific director of the NSERC Smart Net-Zero Energy Buildings Strategic Research Network, which is headquartered at Concordia; and Diane Bastien, a PhD student under the supervision of Athienitis. They discussed research that Concordia is pioneering to develop and integrate new technology to improve the energy efficiency of buildings and make them capable of generating as much energy as they consume.

Related links:
• Salut, Bonjour!
• Solar Simulator-Environmental Chamber
• Faculty of Engineering and Computer Science
• NSERC Smart Net-Zero Energy Buildings Network
---