Jordi Bonet artwork installed on Loyola Campus
Aluminum mural was created during heady days of sculpture in Quebec
"His work is always a window, a gong, an invitation, irrespective of what it says, or its meaning and implications…"

— Guy Robert on Jordi Bonet

Jordi Bonet (1932-1979), a Spanish-born artist who lived most of his career in Quebec, wanted his works — many of which are murals in public spaces — to be out in the world, and to be an integral part of its fabric.

"Art is part of the collective wealth of all, and everyone has a right to find it in his city, street or home, and among his daily objects," he wrote.

Bonet died in 1979 after a long struggle with leukemia. The body of work he left behind is vast and monumental — his murals and sculptures, made of ceramic, concrete, aluminum, adorn entrances, hallways, lobbies and public spaces across North America.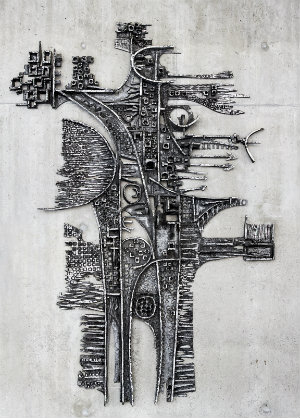 This past year, The Builder, a 1964 artwork made of aluminum, assumed a place of prominence in a public corridor between Concordia's Centre for Structural and Functional Genomics and the Richard J. Renaud Science Complex. The work, given to Concordia by an anonymous donor, was added to the university's public art collection to mark the 80th anniversary of Bonet's birth.

From afar The Builder takes on a supernatural form. Upon closer examination, however, a representation of a city in relief reveals itself, projecting outwards toward the viewer.

"He was playing on the dimensionality of sculpture," says Clarence Epstein, director of Special Projects and Cultural Affairs at Concordia. "He tried to draw in viewers from a distance. But then as they get closer, they realize that this abstract physical form (in effect, the builder) and the city are one. Bonet visually unites the builder and the noble city that he conceives."

Bonet was born in Barcelona in 1932. He developed a fascination with art and architecture early on thanks to his father, who often took him to visit Spain's museums, churches and ruins.
In 1954, shortly after he set up his first drawing and painting studio in Barcelona, Bonet visited Canada and decided to make it his new home.

He enjoyed experimenting with new materials, and at the studio of ceramicist Jean Cartier in Trois-Rivières discovered what he called, "the magic of the oven."

Throughout his first years in Canada, Bonet exhibited paintings and drawings and smaller ceramic works, which allowed him to make a living and continue honing his abilities. By the early 1960s, he was producing larger and more ambitious concrete and ceramic murals with the help of several assistants.

One of his large-scale works of sculpted ceramic, Hommage à Gaudi, created in the same year as The Builder, adorns the entrances of Salle Wilfrid-Pelletier in Place des Arts.

A ceramic mural for the Sierra Leone Pavilion at the New York World's Fair; an aluminum mural for the National Bank in Charleston, Virginia; a vast cement triptych for the Grand Théatre in Quebec City; and a massive mural to adorn the Pie-IX metro station were among the more-than 100 large commissions Bonet undertook during his career.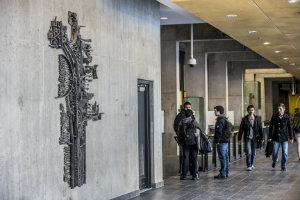 Bonet was working at a particularly vibrant time in the Canadian art scene, Epstein points out, adding that other sculptures in Concordia's public art collection were also created during this fertile period, including a monumental exterior piece on the Loyola Campus by Walter Führer, titled Transcendence, and three suspended steel works by Gerald Gladstone, located in the metro level of the John Molson School of Business (MB) Building. It is interesting to note that works by all three sculptors were showcased at Expo 67.

Bonet was diagnosed with leukemia in 1973, and was told he had perhaps a month to live.
For six more years, he cheated death, producing some of his most important work, before finally entering hospital 18 days before succumbing to his illness at the age of 47. "If I should live longer, you have no idea the things I could create," he told his wife, Huguette Bouchard-Bonet, as he lay dying.

"Bonet was really at the top of his game," Epstein says. "He is one of the great Canadian sculptors of the 20th century. I think it's fitting that Concordia has recognized the importance of his work, and incorporated it into the university's public art collection."

Related links:
• Public art at Concordia University
• Jordi Bonet
---