She studies, she scores!
Thanks to donor support, hockey forward Jaymee Shell blazes her own path
Between classes, library studies, scoring on the ice and staying fit at the gym, Jaymee Shell says she spends more time at Concordia than anywhere else.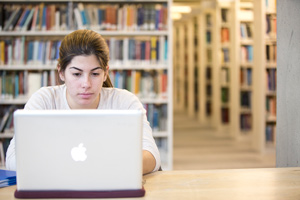 Shell, who is in her third year majoring in exercise science, is a forward on the Stingers hockey team and is able to be an active Concordian because of the scholarships and awards she has received.
"Financial aid and awards granted to student athletes definitely help us remain focused on school and on sports — not on money issues," she says.
Giving students an opportunity to focus on their studies is the main reason Jaymee's father, Mitchell Shell, feels a responsibility to give back to his alma mater. "Whether education is funded by the government or by tuition fees, it is still not enough," says Mitchell Shell, who graduated from Concordia with a commerce degree in 1982. "Our kids need more and giving to Concordia can help them advance in their studies."
As an entrepreneur who runs a local business, Mitchell Shell credits much of his business acumen to the communications, management and decision-making skill he developed at Concordia. "You learn how to work together, which is one of the most important skills I learned that I use day-to-day," he says.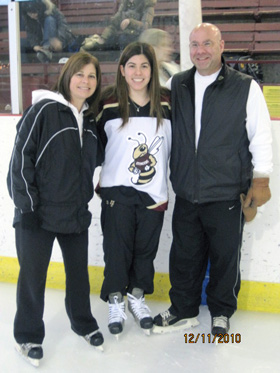 For her part, Jaymee Shell has witnessed how public support has allowed the Vanier Library on the Loyola Campus transition to 24/7 operating hours, while the addition of the winter Stinger Dome has allowed athletes to train on turf year-round. "Whether people give to support scholarships, the PERFORM Centre, the library — these are tools students are using on a daily basis so that we can be successful in the classroom or in athletics," she says.
As a student athlete, she also takes part in a tutor program designed to help fellow varsity athletes maintain a healthy grade point average and thereby remain eligible for competition. "It is a good opportunity to help a teammate or a member of another Stingers sports team," she says.
After Concordia, Jaymee Shell plans to pursue medical school. She hopes to specialize as a paediatric rheumatologist to help children with juvenile arthritis.
Mitchell Shell takes great pride watching his daughter blossom at Concordia. "The fact that she's able to play, study and receive the marks that she has, as well as everything else she has received from the university in awards and scholarships, makes a parent proud," he says.
Watch the video of the Shell family:
Join Mitchell Shell in making a difference for Concordia students. Contribute to Concordia's
Annual Giving campaign
.
Related links:
---