Leading the way in online learning
eConcordia course wins coveted Digi Award
An online course delivered by eConcordia has won the Best in E-Learning category at the annual nextMEDIA Digi Awards, which recognize the most innovative players on Canada's digital media landscape.

"We're extremely flattered," says Kaoru Matsui, executive and marketing director at KnowledgeOne, the university's exclusive online course provider. "It proves that we are developing state-of-the-art content and products."

The award-winning online course, called Montreal: Evolution through Architecture and Urbanism, was developed in 2011 by retired Art History Professor Emeritus Jean Bélisle in collaboration with eConcordia.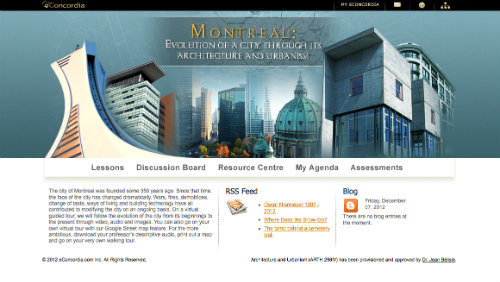 Matsui says the course's innovative use of interactive online tools makes it popular with students, and was the main reason eConcordia decided to submit it for the awards.

"They were asking for the most visual involvement of technological media and components," she says. "There are a lot to choose from, but some had already received awards, so we said, 'why don't we try this one?' "

The course uses narrated photographs, video clips, and even a virtual guided tour of numerous historically and architecturally significant sites around the city using Google Maps.

"We want to make sure that the course is really engaging," Matsui says. "And the more components we use, the more they enhance that learning experience."

Professors at Concordia who want to offer their courses online work with eConcordia designers and technicians to convert traditional course materials into a multimedia package accessible through a unique website.

Ollivier Dyens, the university's vice-provost of Teaching and Learning, says winning a Digi Award indicates that the collaborative efforts of Concordia's faculty members and the staff at eConcordia are producing strong results.

"To create a course like this, a faculty member and eConcordia have to work hand-in-hand," he says. "This goes to show that other people are looking at this collaboration and confirming what we already know: this relationship works really well. Faculty members are receiving all the support they need, and the result is a great learning experience for our students."

eConcordia has won numerous other awards over the past few years for its online courses from various organizations, including the International E-Learning Association, the Canadian Network for Innovation in Education, the Canadian Association for Distance Education, and thre Canadian Society for Training and Development.

There are currently 51 online courses delivered by eConcordia for registered Concordia students. The art history course that just earned the Digi Award will be offered again during the winter term, with guest lecturer Margaret Hodges.

Related links:
• eConcordia
• Digi Awards
---