Chocolate milk's next ambassador?
Stingers basketball player aims to become a spokesperson for everyone's favourite flavoured milk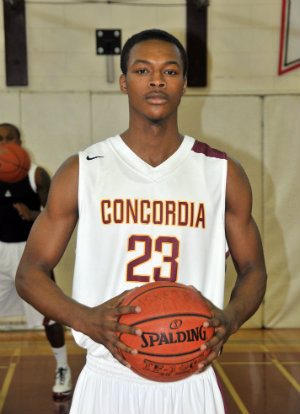 Numerous experts have touted the pre- and post-workout benefits of chocolate milk. No surprise then that the Fédération des producteurs de lait du Québec is using young athletes as ambassadors in their latest marketing campaign for "le lait au chocolat".

The federation is holding an online contest to choose a new crop of chocolate milk ambassadors, and Evens Laroche, an all-Canadian forward with the Concordia Stingers men's basketball team, is among the entrants.
"A friend of mine saw the website and called me and said, 'You really have to do this,' " Laroche told Concordia Athletics. "I thought about it and decided it would be a good way to tell my story and to get exposure for the future."
Laroche, who was named a First-Team All Canadian this year, has a noble career plan. He is in his last season of basketball and is winding down his university studies in human relations. After graduating, he wants to set up a non-profit organization to work with children. He plans to use his success on and off the basketball court to encourage young people to use their time and energy constructively.
"I hope I can be a role model," Laroche said. "I hope kids will look at me and see the importance of focusing on sports and school, and that they will do something positive with their lives.
"I also believe strongly in being healthy and taking care of yourself."
In total, the federation is looking for five new ambassadors to help promote chocolate milk and an active lifestyle. There are 10 athletes currently under consideration, including Laroche. A jury will select four people while public voting on the website will decide the fifth person. The voting period runs until December 16.
The current crop of chocolate milk ambassadors includes Marc-Antoine Carrier, a defenceman with the Quebec Ramparts junior hockey team; Laura Chénard, midfielder on the Université de Montréal Carabins women's soccer team; freestyle skier Mikaël Kingsbury, cyclist Joëlle Numainville, and short-track speed-skater Francois-Louis Tremblay.
Related links:
• Chocolate milk ambassadors competition website
• Globe and Mail article about training benefits of chocolate milk
---