Pioneering innovation
New Centre for Applied Synthetic Biology focuses on problem-solving
Imagine adding a powder to water to learn immediately whether a river is contaminated with heavy metals. Or picture a pill that inhibits your genetic disposition to cancer or diabetes.

Concordia's new Centre for Applied Synthetic Biology has such outcomes in mind from its research projects. "Biology is about discovery – finding out how living organisms work," says Nawwaf Kharma, the centre's co-director and an associate professor in the Department of Electrical and Computer Engineering. "Synthetic biology uses the available information about all or part of a biological system to design, build and verify a mechanism to resolve a specific problem."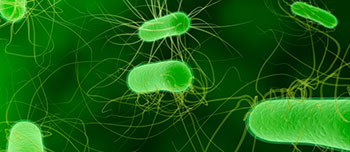 A toxic, heavy metal, for example, could be made to trigger a fluorescent glow in E. coli if there's too much of the metal within a body of water. "We have to determine and test the necessary genetic modifications or additions to the sensing bacteria for this to occur," Kharma says.

The centre is the first of its kind in Canada. Its launch this month brings together researchers from the fields of biology, computer science, engineering, and physics to collaborate at the university's Centre for Structural and Functional Genomics.

"By taking the structured approaches of engineering, computer science and physics, we're introducing greater coherence and predictability," says co-director Vincent Martin, the Canada Research Chair in Microbial Genomics and Engineering, and an associate professor in Biology. "It means starting out with an objective and design in mind, developing a prototype, and testing it."

The centre's dedication to applied biology puts its focus on solving real issues rather than exploring more general scientific questions, such as how a protein works. Projects already range from engineering organisms that can produce biofuels at higher yields to using the knowledge derived from studying leaves to improve solar-powered cells.

Martin's research involves sequencing the DNA of plants with known medicinal benefits to determine whether their metabolites can be made in baker's yeast so they can be produced in the large numbers required for pharmaceutical use.

"A central aspect of synthetic biology is to design a system that will predict how well a project like mine will work," Martin says. "It's why a lot of my current research depends on computational modelling to establish the direction and probable outcomes."

With Canada reliant on other countries for painkilling opiates, such as codeine and morphine, the centre's research can open important doors. "And we're really only on the ground floor in Canada in terms of developing cellular and gene therapies," Martin adds.

The centre gives students an opportunity to witness how various disciplines can intertwine. Its cohesive approach should also make it easier to attract funding, especially with its immense potential for innovation.

"Living organisms do stuff that we can only dream of inventing, such as the ability to detect miniscule concentrations of a scent, or to multiply by the millions overnight," Kharma says. "So why not latch onto these well-understood capabilities and use them to solve problems?"

Related link:
• Centre for Applied Synthetic Biology
---