Top tips for exam success
Resources and workshops help students prepare and understand issues of academic integrity
Need help buckling down for your upcoming final math exams?
From November 22 to December 13, Student Learning Services at Counselling and Development is offering Exam Cram, a program in which students enrolled in basic math courses prepare for tests and learn to deal with exam stress.
Last year, more than 1,100 students participated.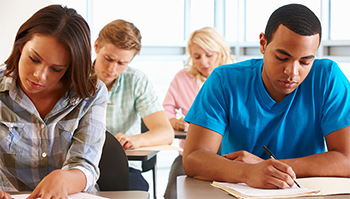 "The feedback has been amazing; 95 per cent of students (who participated last semester) felt this program helped them do better in exams," says Learning Specialist Haleh Raissadat. "This is an opportunity for students to brush up on their knowledge, work out strategies for different types of test questions and figure out how to do well on their final exams."
The 15 Exam Cram sessions cover 11 math and math-based accounting courses.
Taught by tutors who are also Concordia students, each five-hour session is divided into two parts, explains Raissadat. "The tutor reviews a past exam, and offers ways to look for hints and tricky parts of questions. Then students go to the blackboard and solve problems from previous exams."

Exam Cram sessions are most effective when students do advance work on their own beforehand, adds Raissadat. "It's important for students to come prepared, by having done lots of practice questions on their own (before the workshops), because there's no way the tutor can teach all the course material in a few hours," she says.

Registration opens November 13, and Raissadat encourages students to sign up early, because sessions are limited to 50 participants. Students must present their IDs at the door before the workshop.

Academic Integrity and Exams
Raja Bhattacharya knows that most students have never even glanced at Concordia's Academic Code of Conduct. His job as coordinator of the Student Services' Student Advocate Program is to assist students facing charges for misconduct and to raise awareness about behaviours that can result in such charges.

"We promote academic integrity through orientations and class presentations," says Bhattacharya. "Part of our goal is to make students aware of the pitfalls with real examples, or shake them up with observed consequences because most are not aware of the offences or the consequences. My job is to educate them."

Here's how students can get fully informed about academic integrity:
Read the Academic Code of Conduct.
Watch the Academic Integrity video and take the online test.
Understand such offences as plagiarism and other forms of misconduct.
Students are expected to be honest in all academic endeavours and relationships with the University, and they need to know how important the code is, says Bhattacharya. Violators can face serious consequences, such as obtaining zero for the work or exam in question, a whole letter grade reduction, failure for the course, suspension or even expulsion.

Students should be especially careful during exam time about things that may seem innocuous. These common mistakes can lead to trouble:
Having a cell phone in one's possession during an exam (even if switched off).
This is a breach of the code. Leave phones and all electronic devices in your backpack at the farthest corner of the room, away from you.
Being late for the exam and not reading the instructions
Students arriving late often don't read what's written on the exam booklet itself; they just sign it and continue their exam. But it explains such things as not tampering with the booklet.
Tampering with the exam booklet
Do not rip out a page if you've done rough work and think it'll look neater by removing it. If extra paper is needed, ask for an additional booklet.

* Not communicating with or reporting to the invigilator.
Do communicate with the invigilator should you have any issues during the exam.

Students who do get charged with an academic office should call the SAP for assistance.
Related links:
• Exam Cram at Counselling and Development
• Academic Integrity
• Academic Code of Conduct
• Student Advocate Program


---