Education for a surreal world
Michel Choquette's mother expected a corporate lawyer but her satirist son had other ideas
November 7, 2012
|
Source: Concordia University Magazine
This article initially appeared in the fall 2012 issue of the Concordia University Magazine. A link to the full issue is found below.
My parents didn't send me to university so I'd end up juggling on television or warding off hate mail for my contributions to a satirical magazine. And they certainly didn't count on my going bankrupt compiling a book of comics — especially since as a kid I had to sneak comics past my father. The way my mother saw it, I was going to be a corporate lawyer. But her wish never came true.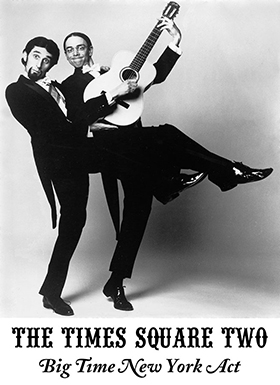 By the time I was attending Sir George Williams University in the early 1960s, I was hooked on comedy. I'd already recorded some of my satirical songs and was parodying beat poets at Montreal night spots. A half-hearted effort at grad studies in ancient Mesopotamian languages at the University of Pennsylvania did nothing to rid me of the habit. Indeed, Samuel Noah Kramer, the eminent Sumerologist whose books had drawn me there, pulled me aside one day to suggest: "Shawgett, why don't you just go and write more funny songs."

And I did. Over the next few years I toured Canada and made forays into the United States, performing my offbeat material. Then, in Vancouver, for no other reason than it seemed a crazy idea, I persuaded a British blues singer named Peter Elbling to join forces with me as the Times Square Two. Our comedic output, which incorporated the aforementioned juggling, could best be described as surrealized vaudeville. We soon moved to the U.S. and grew strangely popular, notably on national television.

My partner's 1969 decision to break up the act was a shocker. I wallowed for a respectable amount of time, then resurfaced to write a demented letter to the editors of the nascent National Lampoon. Within days I was sworn in as a contributing editor. My three-year stint at Lampoon boiled down to being paid for creating material few other glossy magazines would touch, including a photo spread of a Hitler look-alike basking nude on a tropical beach and a slew of edgy comics often illustrated by top Marvel and DC artists.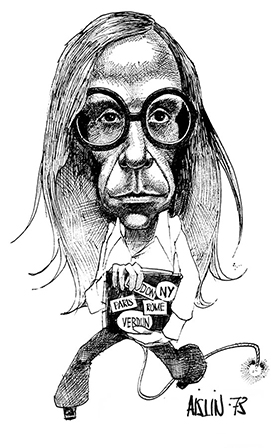 When Rolling Stone editor and publisher Jann Wenner asked me to commission a 20-page insert of original comics about the 1960s, we had no idea the project would balloon into a book venture with the participation of dozens of international figures from across the arts. It would send me hopping around the globe and gradually pull me away from National Lampoon. But Rolling Stone eventually decided it was too expensive and backed out. Harper & Row took over for awhile but then also withdrew. I was left holding the bag, with 169 unpaid contributors, including some of those Marvel and DC artists, the creators of European classics such as Astérix, Lucky Luke and Barbarella, cartoonists known for their work in MAD, Playboy, the New Yorker and National Lampoon and several pioneers of the underground comics world — not to mention Tom Wolfe, Pierre Berton, William S. Burroughs, Federico Fellini, Penelope Tree, Frank Zappa, and a few others in need of a career change.

I spent nearly five years trying to raise money to publish the book privately. But by 1978, emotionally and financially drained, I had to call it quits. I put the project in storage, took a job behind a bar, and shortly after declared personal bankruptcy. I stuck it out at the bar for four years before landing more inspiring work directing documentary films at the National Film Board and, in 1984, creating a screenwriting course at McGill University — one I then started teaching at Concordia as well.

It amazes no one more than me that I've now had a respectable job in academia for 28 years. My parents lived long enough to convince themselves that perhaps this was why they'd sent me to university after all. And on that rather staid note this account could end, if it weren't for the fact that very recently my old comic-book history of the '60s reared its head unexpectedly. In 2011, it was published by Abrams ComicArts as The Someday Funnies, enabling me at last to pay the artists and writers or their heirs for the strips. As a cartoon character who looks an awful lot like me proclaims from the dust jacket: "Better 39 years late than never."

Michel Choquette teaches creative writing and screenwriting at Concordia.
Related link:
• Concordia University Magazine, fall 2012 issue


---