Rugby player named Rookie of the Year
Concordia Stinger Bianca Farella receives Canadian Interuniversity Sport honour at championship dinner
Concordia Stinger Bianca Farella has been named the Rookie of the Year and an all-Canadian in women's rugby by the Canadian Interuniversity Sport (CIS).

The honour was announced at a championship dinner, hosted by St. Francis Xavier University in Antigonish, N.S. Wednesday night.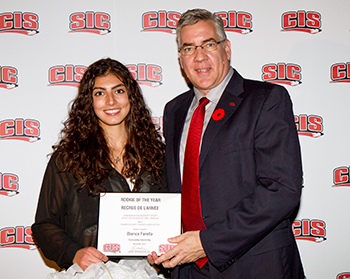 The Montreal native led the Quebec women's rugby conference in tries scored despite playing only six of seven games (12 tries for 60 points). Her prowess was recognized by the league coaches who voted her to the conference all-star team and named her the Quebec Rookie of the Year.

"Bianca has had an immediate impact on our program both on and off the field," said Stingers head coach Graeme McGravie. "On the field her commitment to be a better player has raised the game of those around her. She has exceptional work habits during and after practices and in the gym."

Farella was a force to reckon with in the playoffs. She was dominant in the Quebec championship game, scoring three tries to lead the Stingers to a 35-34 victory over the undefeated Laval Rouge et Or. She was the game's Most Valuable Player (MVP).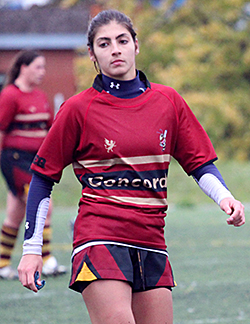 She has also impressed people at Rugby Canada. Farella is a carded athlete with the senior women's national team and will travel to Dubai in November to represent Canada at the International Rugby Board Women's Sevens World Series.

The behavioural neuroscience student comes to Concordia University after three years as a dominant force in the Quebec Cegep league where she was a three-time all-star and the team MVP with the Dawson College Blues.

While at Cegep, she led the Blues to three consecutive RSEQ championships.

This is the second time in the past four years that a member of the Stingers has won the CIS Rookie of the Year Award for women's rugby. Hughanna Gaw was given the honour in 2009.

Farella and the Stingers will play in the CIS national championship tournament this weekend. Their first game is scheduled for Friday, November 2 at 1:30 p.m. Atlantic time. Follow the team's efforts.

Related links:
• Stingers women's rugby


---