Women's rugby team clinches provincial title
Stingers prevail over Rouge et Or in a nail-biter
The Stingers women's rugby team avenged their only loss of the season to capture their fourth provincial championship in six years last Saturday. It was a back-and-forth game as Concordia let a halftime lead slip mid-way through the second half as Laval jumped out to a 34-30 lead.
But another try by Concordia sealed the single point victory, 35-34.

The team was lead by veteran, Jackie Tittley and star recruit Bianca Farella, who led the team in scoring with 12 tries.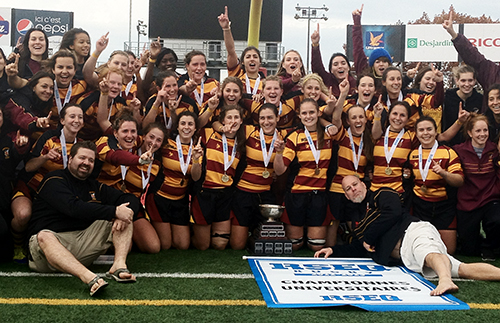 Head Coach Graeme McGravie says this year's championship team has a different make-up than championship teams of the past, "We have a good mix of veterans and recruits this year; we have never had so many first-year players step up and contribute the way they have this year," he said.

This may be why the Stingers were written off this year and many thought they were the third- best team going into the season behind Laval and McGill. But Coach McGravie knew his team had what it took to be champions once again.

Now, the pride of the Stingers look ahead to nationals, hosted by St. Francis Xavier University and McGravie is not trying to temper any expectations. "We are going in as champions and I expect us to play like champions," he said.

Concordia will represent the Quebec conference in the six-team tournament, which runs from November 1 to 4. The Stingers have not had as much luck playing teams outside their conference this season, garnering only one win and three losses in non-conference play. But the Stingers are going to give it everything they have to improve on their silver medal performance at the 2010 national tournament.

Related link:
• Department of Recreation and Athletics
---