Inspiring words for class of 2012
New president, honorary doctorate recipients and valedictorians address graduates
Diplomas in hand, Concordia's graduating class of fall 2012 is now ready to move onto the next phase. Many of them may have a good idea of what the future holds; either they'll continue with their studies or move into professional careers. Others may be less certain of their next step.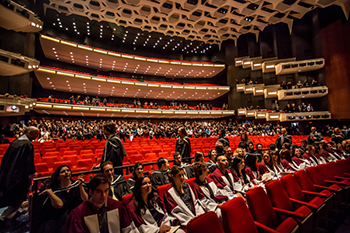 In the meantime, they can take a moment to be proud of a job well done, and savour the memories of their time at the university. Convocation is a celebration of their accomplishments at Concordia. It offers a chance for graduates to pause and reflect before taking a giant leap into the unknown.

Concordia's new president, Alan Shepard, was installed during the convocation ceremony for graduates from the Faculty of Arts and Science. During his address, he underlined the day's importance for the graduating class.

"Convocation is like so many rituals... that mark a fundamental moment in one's life," he said. "It will go by quickly... but it leaves an indelible mark on you... Each of you will now always be a Concordia graduate."
Honorary doctorates
During her address to the fall 2012 graduating class from the Faculty of Fine Arts and the Faculty of Engineering and Computer Science, honorary doctorate recipient Elsa Bolam told the graduates to enjoy the moment. "You deserve to. You passed all those horrendous exams," she said. "Later, you'll look back on this as a joyful time."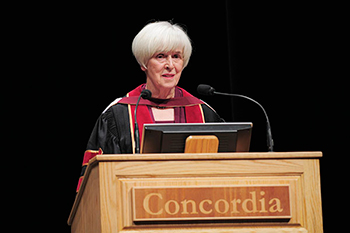 Bolam, the founder of Montreal non-profit theatre company Geordie Productions, spoke to the challenges and uncertainties that lie ahead for the new graduates, and encouraged them to stay true to themselves, even if things don't quite go as planned.

"You're going out into the world at a turbulent moment," she said. "You'll really need to know yourself; to know who you are, and be able to listen to your own inner voice in order to make the kind of decisions you'll need to make along the way."

Concordia also awarded an honorary doctorate to businessman Aldo Bensadoun, the founder of Aldo shoes. During his address, Bensadoun recalled the fear of the future he felt around the time of his graduation from McGill in 1963. But even though he was anxious, Bensadoun said, he was confident he knew what he wanted to do. "I had to create my own company, my own environment." he said. "A company built not on fear, but on love, discipline, respect, integrity, and hard work.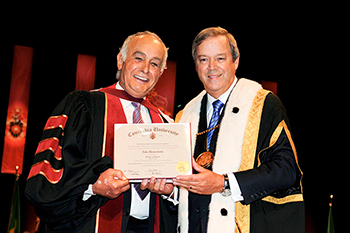 "Life's journey is not a straight path," he said. "You have ups and downs and you never know what's next." Indeed, the path that brought Bensadoun to Montreal and eventually to success in the business world, was winding and difficult, and included dropping out of Cornell University and a year-long stint selling encyclopedias in the Buffalo region.

Looking back on those difficult years, Bensadoun said, it was the time when he learned some of his most valuable lessons, and when he ultimately realized what he wanted to do with the rest of his life. "If you lose sight of what you like, try to find it," he said. "Look to learn something from each experience. Good or bad, you learn from each experience."

The successful businessman implored Concordia's John Molson School of Business graduates to take chances, and to strive to make a positive difference in a challenging world. "Never settle for half measures. Live your life to the fullest. Create your own vision, to care not only for your welfare, but to care for the people around you."

Valedictorians
Marie-Eve Chagnon, class of 2012 valedictorian and a PhD graduate from the Department of History, also spoke of the time when she began her studies at Concordia as full of doubt. Had she chosen the right subjects? Was she capable of doing them justice?

"It was the people here that changed this for me, both the faculty and the students," she said. "What I and my fellow students found, were professors that listened to our ideas and encouraged the promising ones. We were given the freedom to try and sometimes fail, but always discover."

Chagnon gave a heartfelt thank you to the faculty at Concordia. "You did more than merely dispense knowledge. You provided the light by which we could find our own way."

Class valedictorian Natasha Reid, from the Department of Art Education, said when she began her graduate studies at Concordia, she felt terrified to express herself, fearing negative judgment. Her fears were soon doused. "What I found was a sense of home. My professor created a place and space for us to voice our stories, our diverse stories, to deeply listen to each other's narratives and to encourage and challenge each other."

Her confidence bolstered, Reid excelled — taking what she learned from her teachers about listening to and learning from others' stories and applying those lessons to her research. She hopes that her fellow classmates will do likewise.

"We must continue to strengthen our voices and engage with the stories of others in our future studies, employment, volunteering and daily community engagement," she said, adding that she is excited to read the stories that will be written by the class of 2012.

JMSB Valedictorian Marcelo Nepomuceno, who received his PhD in business administration, began his address by telling the assembled business school graduates at Convocation that he was incredibly humbled by the news he had been chosen to represent the class of 2012.

It represented the joyous end of a long and difficult journey. He told his fellow graduates about leaving a comfortable life in his native Brazil to come to Montreal to pursue his dream of getting a PhD.

"We all know how difficult it was to get here," he said. "We know how many nights we didn't sleep. We know the challenges we had to overcome ... Tonight we didn't just prove to others that we can get a diploma. We proved to ourselves that we can fight for our dreams."

Now, he told his peers, they just have to figure out where those dreams will take them next.

Related links:
• Graduation and Convocation
• "New president installed at convocation" - NOW, October 31, 2012
• President's message
• President's full speech at Convocation








---