Stingers impress with dominant season
Women's rugby team heads into the playoffs with high expectations
The Stingers women's rugby team has cemented itself as a top program in the Quebec conference after posting another impressive regular-season record, losing only once in a hard-fought game against the first-place Laval Rouge et Or.

Prior to its 27-22 loss to Laval in the final game of the regular season, Concordia had scored more than 10 times its opponents with an aggregate score of 266-26 in six games.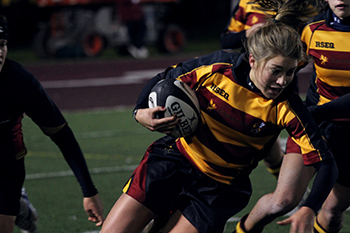 The women's rugby team has had more wins than losses every season since head coach Graeme McGravie took over the team in 2005. Veteran player Jackie Tittley credits the coaching staff with the team's success. "We've had a very successful program for five or six years now and people want to come here and train hard for this team and this coaching staff," she said.

It can be easy for a dominant team to overlook its opponents, but McGravie does his best not to let that happen. "We drive them in practice because we have so many girls, so the competition for playing time is pretty fierce. We take it from week to week and we haven't looked past anybody," he said.
Winning at rugby takes a team effort, especially as convincingly as Concordia has done all season. But there have been some standout players this year for the Stingers, including the consistent veteran Tittley and the breakout recruit Bianca Farella, who led the team with 10 tries this season.

After making it to the provincial championship last year, where the team lost to Laval, and completing another impressive campaign this season, expectations are high among the players, says first-year player Samantha Bennett. "We're in this to win it; that's our goal," she says. The team will try to capture the RSEQ (Réseau du sport étudiant du Québec) championship when it faces McGill in the semifinals at home on Friday, October 19.

What: RSEQ semifinal women's rugby game
When: Friday, October, 19, 2012, at 7 p.m.
Where: Concordia Stadium, Loyola Campus (7200 Sherbrooke St. W.)
The game will also be streamed live by SSN.

Related links:
• Athletics (women's rugby)
• SSN streaming site
---