Grad students get connected
GradProSkills program aims to give students real-world networking experience
Seated in a classroom at the new PERFORM Centre, 15 Concordia graduate students from all over the globe are bombarding former Stingers hockey player Stefan Lutzenkirchen with questions about Canada's favourite game.

Though some of the students have seen hockey on TV, none of them has ever been to an arena to watch a game. Now, as part of a new activity series, available through Concordia's Graduate and Professional Skills Program (GradProSkills) called GradConnect, they're about to head down to the rink to watch the Stingers take on the McGill Redmen in the season-opening Corey Cup Game.
"Apart from the goalie, how can a player block the goal?" asks Bawneet Singh Nanda from India, a graduate student in industrial engineering. Lutzenkirchen patiently explains how players can block and handle the puck, before fielding more questions about substitutions, and strategy, and of course, fighting.

Anmol Vig, a graduate student and member of the GradProSkills team, explains that GradConnect is a program designed to take graduate students out of the lab or the classroom and into real-world networking events they may encounter if they choose to work in Canada.

"It wasn't long before our team thought about the idea of attending a hockey game, a favourite pastime in Canada," he says. "If you're going to attend an event, you should have enough vocabulary to keep the conversation going," he says.

Half an hour later, primed with their new hockey knowledge, the students cheer on as the Stingers battle their crosstown rivals.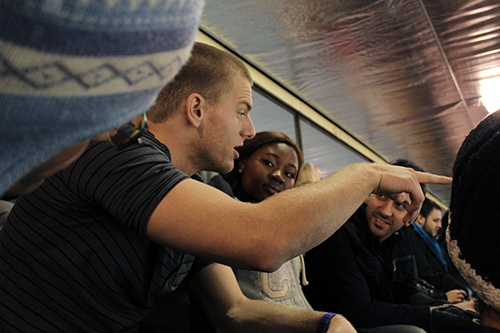 Iranian graduate student Pyam Vaseghi says he had given up trying to watch hockey on TV because he found it hard to follow. "Before this event I didn't know anything about this game," he says. "I always thought it was boring, but now that I know the rules, it's super exciting. It's not boring at all!"
Vaseghi says after graduating from Concordia with a master's degree in marketing, he hopes to stay and work in Montreal. He hopes that better networking skills will help him to secure a job. "When I was studying, I was spending all of my time at the lab. I didn't interact with people that much, so this is really healthy for me, and I find it really practical."

As Mona Ashawi, another member of the GradProSkills team, explains, a lot of Concordia's graduate students who come from different parts of the world plan to stay in Montreal once they finish their studies. "They want to have a future here, so what better way to start out than attending these types of events?"

Besides the Stingers hockey game, the GradConnect group will also attend a discussion about a community art project at the Leonard and Bina Ellen Art Gallery and a meet-and-greet event at Montreal's Young Chamber of Commerce.

Back at the arena, with 10 minutes left in the game, the Stingers are up by two goals, and the Grad Connect group is cheering madly, high-fiving each other, and arguing good-naturedly among themselves about why the referee has just blown the whistle again. Concordia has a penalty. Down a man, they surrender a goal to McGill. But it's too little too late, and the Stingers win by one.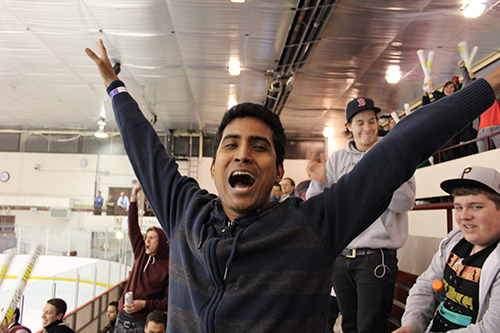 It's the first time in 10 years that the Stingers have won the coveted Corey Cup. The GradConnect students didn't expect to be attending such an important game. More high fives and cheering ensues as the cup is brought out onto the ice.

"Hockey is a very lovely game," says Nigerian Jennifer Okolo, a graduate student in Information Systems Security, a huge smile on her face. "This is my favourite sport for now. Before I didn't know about hockey. I always watched soccer or basketball. For now, hockey is good."

This fall GradProSkills has more than 150 skills development workshops available to graduate students and post-doctoral fellows at Concordia, as well as a number of special events and activities. Most of what's available, including GradConnect, is designed and organized by the graduate student members of the GradProSkills team.

"The great thing about GradProSkills is that we can develop any kind of program that will benefit grad students," Afshari says.

Related Links:
• GradProSkills
• GradConnect


---