Solar energy, sunny side up
Athienitis talks at prestigious "Bacon and Eggheads" meeting in Ottawa
At an hour when many Ottawa parliamentarians would be preparing for Question Period, a sizeable crowd recently opted instead for a serving of bacon, eggs and straight science talk from Concordia's Andreas Athienitis.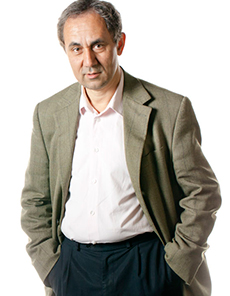 The Partnership Group for Science and Engineering (PAGSE) is the sponsor of a regular breakfast meeting called "Bacon and Eggheads," in which parliamentarians and representatives of public agencies can catch up with the latest advances in science and engineering. On September 27, Athienitis, a leading expert on solar buildings in North America, became the first Concordian to deliver a lecture at this prestigious event. His presentation was called "Cities in the Sun: The Path Towards Smart Net-zero Energy Solar Buildings and Communities."

He talked extensively about efforts to achieve and possibly even surpass the goal of creating buildings that generate as much energy as they consume (net-zero).

"We seek out excellent and active scientists with standing in their field," said Frances Pick, a professor from the University of Ottawa and committee chair for "Bacon and Eggheads." Several months ago, she invited Athienitis to speak and was delighted with the outcome. "The presentation was very informative for all of us."

Among those in the packed room was Elizabeth May, leader of the Green Party of Canada and MP for Saanich-Gulf Islands in British Columbia. "What struck me is what a compelling case Athienitis made for solar buildings," she said. May cited the solar panels on Concordia's John Molson School of Business Building as a prime example of an innovative project that, given the proper funding and resources, universities should embark on more often.

With a laugh, May said she is probably unusual among MPs because of her longstanding love for and involvement with science issues. "I'd rather read an original peer-reviewed paper than the sort of 'science for dummies' version," she said.

Athienitis is the Scientific Director of the NSERC Smart Net-Zero Energy Buildings Strategic Research Network, based at Concordia.
The "Bacon and Eggheads" audience learned about this Canadian research effort that brings together 29 Canadian researchers from 15 universities to develop the smart net-zero energy homes and commercial buildings of the future. They were also treated to some photos of Athienitis' home in Brossard, which has large south-facing windows to capture as much sunlight as possible. The house also has a solar-panelled roof and a solar-heated swimming pool.
Athienitis' presentation included many other examples of residential projects that ensure maximum energy efficiency and optimal electricity generation.

When asked in the question-and-answer period after his presentation what would help propel Canada further forward in the use of renewable energy, Athienitis mentioned the need for more specialized training for engineers and architects, as well as better coordination among the various players in the building industry. "It means viewing buildings as integrated systems," he said.

Related links:
• Smart Net-Zero Buildings Strategic Research Network
• Faculty of Engineering and Computer Science


---