Season of self-discovery
Concordia's theatre department unveils 2012-13 season line-up — and a stylish poster series
The Department of Theatre will explore the timeless concept of the journey of self-discovery in its new season. Under the banner of voyages, the main productions focus on transformation.

That's how the season itself evolved. "We brainstormed about the directors first; that's where it all starts," says Veronica Classen, artistic director for the season. "When we stood back, we saw the unifying theme was about journeys: All the stories are about self-discovery."
The directors of the three mainstage productions this year include respected Toronto-based Jennifer H. Capraru, who is approaching Ingmar Bergman's film classic The Seventh Seal as an ensemble work. Visiting lecturer Lu Suosen and faculty member Robert Reid are combining forces along with associate music professor Sandeep Bhagwati to stage Peleus and Thetis as a heady mix of Jing Ju (Chinese opera) and western drama. Peter Batakliev, actor and faculty member, is tackling Henrik Ibsen's ambitious poem Peer Gynt.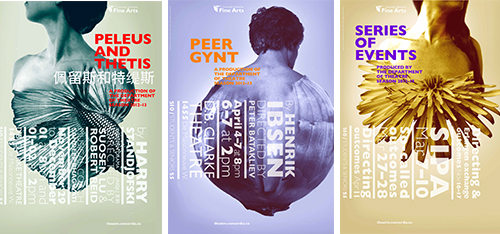 The season also features So-Called Outcomes, a collaboration between students and the multi-talented performer Josh Dolgin (aka So-Called), which promises to be out-of-the-ordinary; and the Student-Initiated Production Assignment (SIPA)/Short Works Festival, which features plays written, directed and produced by students. An original piece developed in collaboration with exchange students and faculty from the University of Erlangen-Nürnberg in Germany will also be performed.
A new twist this season is the series of posters that was designed specifically for it by a student in the Department of Design and Computation Arts. Catherine Vallières, who has since earned a BFA, won a competition in one of assistant professor Nathalie Dumont's courses. Dumont had been approached by theatre department chair Robert Reid to help implement the vision.
Vallières' concept was to mirror the notion of transformation, integrating a symbol from each that captured the essence of that change: a moth, a feather, an onion. "It's not about saying something, it's not about showing something – it's about becoming something," she says.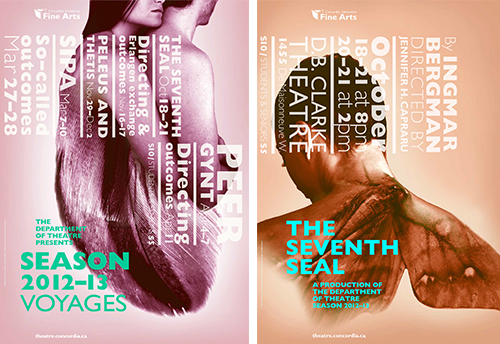 The three-judge panel cited "the quality and adaptability of the concept, the originality of the compositions and the flexibility of the graphic system, which allows variations for each individual poster." Vallières won $500 and the opportunity to professionally prepare a five-poster series over the course of the summer, with Dumont as creative director.
"This poster series will really highlight both the theatre and the design programs," says Dumont.

Related links:
• Full details of the 2012-13 theatre season
• Department of Theatre
• Department of Design and Computation Arts
---