Time running out to enter photo contest
Last chance to show us your Slice of Campus Life
The deadline for submissions to the Slice of Campus Life photo contest is fast approaching. Students, staff and faculty have until Wednesday, October 10 to submit their best shots of life on Concordia's two campuses.
This year's edition has already received some strong submissions, including a spontaneous shot taken by student Rachel Lau of fellow journalism student Alexandra Simard hiding behind a copy of the Concordian student newspaper.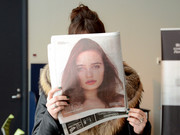 "I was snapping photos of everyone around me," Lau recalls. "Alexandra, not wanting to get caught, whipped up her paper in front of her face when I tried to take a picture of her … The photo was just an accident, believe it or not."

Lau's father was a professional photographer, so she grew up around cameras. "I suppose I inherited his interest in photography and have always found myself to be very visual. It just seemed like a natural transition for me to go into photography, both for myself and for work," she says.

The fourth-year student, who is completing her BA with a specialization in journalism and minors in political science and études françaises, says she enjoys experimenting with different types of photography, but that she loves taking candid shots such as the one she submitted. "I feel that they are closer representations to real life than static, stylized portraiture; not to say that I don't enjoy experimenting with this too," she says.

Not wanting to miss a good opportunity for a photograph, Lau says she always has her camera with her. "I take photos of what some may consider banal but I believe there is beauty in places that we may not even see," she says. "Sometimes, when something catches your eye it does take a little bit of staring to see the photograph within what your eyes are capturing."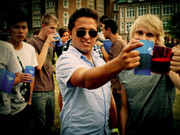 Student Rene Arseneau also entered a candid portrait in the contest, taken during Frosh. The photograph showing a student raising a plastic beer mug and sporting a sideways smile, was taken in the quad on the Loyola Campus. It was during the first few weeks we all moved into residence," Arseneau recalls. "Everyone was having a good time."

Arseneau says his new friends in the picture, James on the left, and Andrew on the right, were toasting their newfound friendship. "It was an obvious choice for this contest as it was a perfect slice of campus life."

The native of Bathurst, N.B., who is in his first year of film production at Concordia, says photography is not just a hobby for him; it's an important part of who he is. "What I love about photography is I can stand in one location for hours just to get the perfect shot," he says. "It's a way of showing people how I see this world from a simple action to a plain object."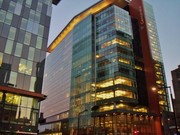 Student Jessica Leveille says her evening shot of the Engineering, Computer Science and Visual Arts Integrated Complex was inspired by all the changes she's seen during her time at the university: "When I began my courses at Concordia, it was just a big hole. How time flies!"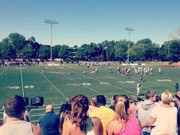 Isabel Iglesias's picture, taken during a Stingers home game, shows the football team competing under a glorious blue sky in front of crowded bleachers. "The Stingers are a very important part of Concordia that connect students, parents, faculty and alumni together," she says. "This photo is a sunny still life of all these different factors that make Concordia the amazing place it is!"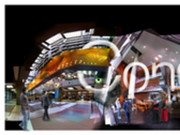 A photo collage titled Crossroads at Concordia by Raphael Tetreault-Boyle shows the four main lobbies of the Sir George Williams Campus, overlaid with the university's name. "It is in these crossroads where we meet," he says of the piece, which is made up of more than 100 images. "Together we share our individualities to form a community within Concordia; to strive to better ourselves athletically, intellectually and artistically."

Related links:
• Slice of Campus Life Photo Contest
• "Judges seek unique, inspired images" — NOW, September 26, 2012
• "Capturing a slice of campus life" — NOW, September 19, 2012
• Meet the 2012 Slice of Campus Life photo contest judges (video)

---