The buzz about art hives
Unique art studio in St-Henri aims to both knit neighbours together and provide academic environment for university students.
Take one modest storefront on a street in a working-class neighbourhood; fill it with donations of paints, fabrics and other recyclables; throw open the doors to the community to come make art and what do you get? A community art hive. Or, in French, a ruche d'art.

Art hives are the research focus of Janis Timm-Bottos, an art therapy professor with Concordia's Department of Creative Arts Therapies. She's been involved in developing these small, free community art studios for almost 20 years, the two most recent being La Ruche d'Art: Community Studio and Science Shop in St-Henri last year and the Studio d'Art St-Sulpice in Ahuntsic in March.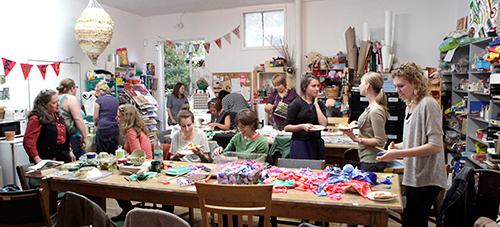 While open to all, this arts-based social inclusion initiative especially welcomes those living on society's margins. There are no instructors; participants learn from and teach each other, and, in the process, share ideas about local social and cultural issues.

It's a concept Timm-Bottos began exploring when she was a pediatric physical therapist in Albuquerque, New Mexico. Her work involved visiting families in their homes, many of which were in high-risk neighbourhoods. A lifelong "art maker" herself, she noticed that in homes that displayed children's artwork, the family seemed more resilient.

After earning a master's degree in art therapy, she began collaborating with a healthcare organization that works with the homeless in Albuquerque. She helped initiate a storefront studio space where street artists could find refuge and solace in making art and rebuilding connection with the community.

"A diverse community developed within this 'public home place' that crossed socioeconomic divides, where people began to experience a deep sense of belonging and purpose," she says. "This project demonstrated to me that the social capital of the most vulnerable members of our society is incredible.

"The studio provided opportunities to share abilities and develop leadership skills while giving back to the community."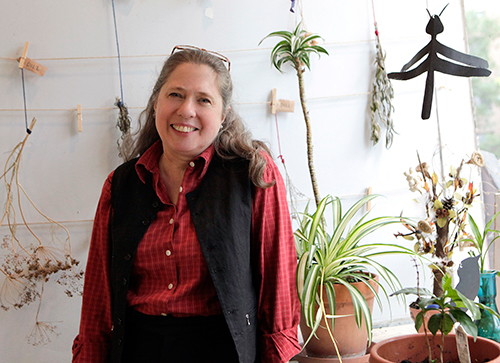 Creating a national network
Drawing inspiration from several nationwide economic and social programs in her native U.S. and weaving in her own perspective as an art therapist, Timm-Bottos has worked with various community partners to create different iterations of the art hive model. The St-Henri studio marks her first experience of partnering a university with private funders. She teaches one of her university courses at La Ruche. Several Concordia students are engaged as either research assistants or volunteers and art therapy students are beginning to intern there.

"If you are connected to a university, you can bring in the energy of students," Timm-Bottos says. "They spend most of their time in an academic environment and the storefront studio provides an outlet and access to learning directly from the community."

News of Timm-Bottos' work has spread. She regularly receives emails from individuals and organizations across North America and Europe who want to establish their own art hives. She'd like to develop a downloadable online kit for them, but for the next few years, she's focused on spreading the word in person across Canada.

For this initiative to help plant the seeds of a national network of neighbourhood art hives, the J.W. McConnell Family Foundation has given a $300,000 grant, to be used over the next three years.

"For these partners – the university, the private funders and the community – to come together to create free spaces for people to inquire about themselves, about their neighbourhoods, about each other, is wonderful," Timm-Bottos says.

Montrealers can get a taste of how an art hive works during Journées de la culture, September 28 to 30. La Ruche d'Art has organized two-hour mini art hives at five libraries, at which its volunteers will guide participants in making creative art pieces from recycled material.

What: La Ruche d'Art: Community Studio and Science Shop
When: Fridays and Saturdays from 2 to 7 p.m.
Where: 4525 St-Jacques St., Montreal

Related links:
• La Ruche d'Art in St-Henri
• Creative Arts Therapies – art therapy MA
• Les Journées de la culture



---