Scholarship and bursary recipients pay it forward
Annual Concordia walkathon inspires students to help others
"Concordia is really the best thing that has happened to me," says Timour Najeeb, a recent mechanical engineering graduate. "I was lucky to receive a Shuffle award two years in a row, as well as the Concordia Memorial Golf Tournament Endowed Bursary."

Najeeb, a French national born and raised in Pakistan, worked 20 hours a week as a student telefundraiser for Concordia's Advancement and Alumni Relations while studying full time.

The juggling between work and studies was made easier thanks to his student support. "Those awards really helped a lot," Najeeb says.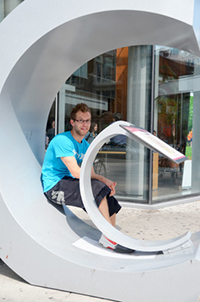 Concordia's annual Shuffle, the 6.5-km walkathon between the Sir George Williams and Loyola campuses, raises money for scholarships and bursaries. The funds accumulated by the Shuffle since its 1990 inception surpassed $1 million last year.
Thanks to these funds, Concordia offers two types of Shuffle awards: entrance scholarships based on academic achievement and bursaries based on financial need.

Gabriel Comeau, who recently finished his second year in mechanical engineering at Concordia, received the $2,000 entrance scholarship one week before beginning his studies. "It was quite unexpected, since I hadn't heard about the Shuffle before. The feeling was really great," Comeau says.

While he had saved money for two years prior to university, he admits that had he not received the award he would still be struggling. "It helped me out with my books and my rent at the residence," he says. "I was therefore able to focus more on my studies."

The Shuffle award also opened Comeau's eyes to other available scholarships: "I encourage students in their last year of secondary school to study hard so they can get a scholarship. They'll be able to start university with no stress on their shoulders."
The feeling is shared by David Chouinard, curator at the non-profit TEDxMontreal and a third-year computer science student. The Shuffle scholarship recipient says, "This recognition of my past academic performance, as well as my community involvement, has motivated me to pursue my academic goals."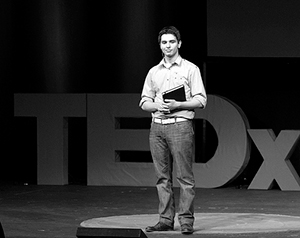 "The Shuffle Scholarship allowed me to focus on the most important aspect of my educational pursuits. I'm tremendously grateful to the many Shuffle donors," he adds.

As a result, Chouinard decided that he would participate in Shuffle 23 this fall, because "it's a great opportunity to give back. I hope to continue the tradition as an alumnus."

Najeeb, Comeau and Chouinard agree that Shuffle awards were essential in helping them succeed in school. For this reason, they all think it's important to give back.

"Nowhere in life do you get by without help," says Najeeb. "So why not help people in return?"

Related links:
• Concordia Shuffle
• Undergraduate Entrance Scholarship Program
• Undergraduate In-Course Bursary Program
• Giving to Concordia

---