Warm welcome for Sauvé Scholars
New partnership with Concordia opens campus doors to young global leaders
Earlier this week, Desirée McGraw, executive director of the Sauvé Scholars Foundation, introduced the 12 newest Sauvé Scholars to an assembled crowd of academics, board members and friends of the foundation.

The young leaders, chosen for their proven commitment to making the world a better place, will spend one year in the Sauvé House on Dr-Penfield Avenue, working on their own research projects, networking with their peers, and taking advantage of a host of academic programs and facilities made available to them.

Although McGill University is the academic home of the program, a new academic partnership with Concordia means the scholars can now also receive mentoring from Concordia faculty members, audit courses, and take part in Graduate and Professional Skills (GradProSkills) seminars.

McGraw acknowledged Concordia's new connection to the Sauvé scholar program during her address. "We're thrilled with the new MOU (Memorandum of Understanding) that's been signed," she said, adding that Concordia's Interim Dean of Graduate Studies, Paula Wood-Adams, along with her counterpart at McGill, Martin Kreiswirth, played key roles in selecting the current cohort of scholars and pairing them up with faculty.

Wood-Adams says Concordia's partnership came about as a result of former Concordia president Frederick Lowy's involvement with the Sauvé Scholars Program. Lowy, who was elected to the Board of Directors of the Sauvé Scholars Foundation in 2008, suggested the partnership to McGraw, who then approached the university.

"We thought it was a great idea," says Wood-Adams, who immediately set about housing the program partnership within the School of Graduate Studies. Some of the new scholars are already availing themselves of the opportunity to work with Concordia faculty members, who have agreed to serve as mentors.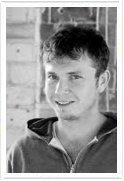 Jonathan Sas, who has an MA from the University of British Columbia and extensive experience as a news editor for The Mark, an online commentary and analysis magazine, will be conducting research under journalism professor Jim McLean.

The two got to know each other through one of McLean's research projects on journalistic entrepreneurs.

"Jonathan was very forthcoming about his position at The Mark," Mclean recalls. "And when he was accepted (into the Sauvé Scholars program), he simply came to me, because at that point, we had discovered that we have a lot in common in terms of research interests."

Sas will be conducting research into improving the viability and visibility of alternative, independent online news sources in Canada.

"We all recognize there's a problem," McLean says. "If you're out there just doing blogs on your own, but you have an interest in your community or what's happening in the world at large, it's very difficult to have your voice recognized by more mainstream or bigger organizations. Jonathan sees some room for developing that kind of facilitation … so that more voices can be heard."

Tairah Firdous, a native of Kashmir, is an award-winning documentary filmmaker and journalist. During her year in Montreal, she will continue her research into abuses of the Public Safety Act (PSA) in Jammu and Kashmir, and hopes to complete her third documentary film, about torture victims in Kashmir.

Firdous is taking a documentary film production course with Concordia Professor Marielle Nitoslawska, "It's an undergraduate course but I think that suits what I'm doing," Firdous says, adding that Daniel Cross, chair of the Department of Cinema, has also offered to give her informal feedback on her work.

Before coming to Montreal as a Sauvé Scholar, Firdous was working as a reporter at a large daily newspaper in Delhi. She is relishing the time the program affords her to work on her own projects, and to connect with and learn from the other scholars.

"It feels great. You are with other people who come from different backgrounds, but they have been working on issues that are really important and have expertise," she says.

Sas agrees that the Sauvé scholarship is a great opportunity to connect with like-minded, highly motivated young people. "Everyone here has an inspirational story and vision," he says. "The hope is that this is just the beginning."

Related links:
• 2012-2013 Sauvé Scholars
• School of Graduate Studies
• GradProSkills
---