Remembering fallen Stingers
Concordia honours two deceased athletes at annual memorial games
The Concordia women's soccer and rugby teams each have an important game this week; both for their season and because they're being played in memory of two former Stingers who tragically lost their lives.

The women's rugby team will play in the eighth annual Kelly-Anne Drummond Cup on Wednesday, September 12 against cross-town rival McGill University. Drummond, a member of the Concordia Stingers rugby team from 1999 to 2001, was killed by her boyfriend on October 4, 2004.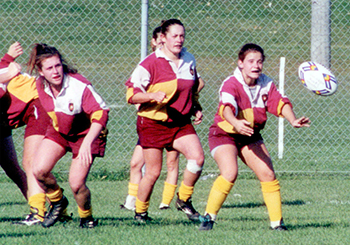 Graeme McGravie, head coach of the Stingers women's rugby team, vividly recalls hearing about Drummond's death. "I remember standing on the field thinking to myself, we've got to do something about this … I suggested the idea of a memorial game the next year."

The following season the first game was played in her honour. McGravie says the memorial game is a great way to remember a fallen member of the Stinger family. "It's always been a pretty highly charged affair between Concordia and McGill and this just adds something extra on to it. It's great for Kelly-Anne's family to keep her memory alive."

The long-time rugby coach urges everyone to come out to the game as it's a fundraiser, and all the proceeds go to a good cause. "We walk around with buckets and people throw money into them. All the money that's raised goes to a group called Women Aware in the West Island, and to date we've raised close to $10,000."

What: Kelly-Anne Drummond Memorial Cup (Concordia women's rugby team vs. McGill)
When: Wednesday, September 12 at 9 p.m.
Where: Loyola Campus football field (7200 Sherbrooke St. W)
On Friday, September 14, the women's soccer team will compete in the seventh annual Erica Cadieux Memorial Game, also against McGill. Cadieux died in a car accident in January 2006. She played soccer for the Stingers from 1992 to 1994.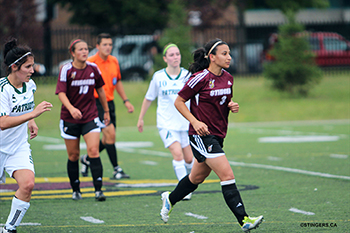 Head Coach Jorge Sanchez says this year's team sees the game as "passing on the tradition that you are always a Stinger, even after you've graduated, so all these players who didn't know Erica, maybe they'll leave thinking someone is going to remember them 20 years down the road or 30 years down the road. They'll still have friends who will remember them because of being a Stinger with them."

Sanchez remembers Cadieux fondly. "She was someone who was always seen as the epitome of a student athlete because she cared about her teammates."

What: Erica Cadieux Memorial Game (Concordia women's soccer team vs. McGill)
When: Friday, September 14 at 8:30 p.m.
Where: Loyola Campus football field (7200 Sherbrooke St. W)

Both teams look to improve on last year's performances. The women's rugby team got off to a strong start, trouncing the Sherbrooke Vert et Or 80-0. It was a full team effort as six different players scored tries, led by centre and star new recruit, Bianca Farella with five. The impressive victory will give them plenty of momentum going into the memorial game.

The soccer team got off to a shakier start losing their opening game to the Université de Montreal 5-0. This past Friday, however, they evened their record, beating Université de Quebec à Trois-Rivières 2-0.

Related links
• Concordia Stingers Women's Rugby
• Concordia Stinger's Women's Soccer



---