Plumbing the seas for genetic treasure
David Walsh's research focuses on understanding the impact of environmental changes on ocean microbes
The President's Report 2011 presents the highlights of the past academic year under the theme, Big Thinking Adds Up, Strength in Numbers. The publication, now available online, presents profiles of six Concordians who are making invaluable contributions in their respective fields. Read more about the work of David Walsh below: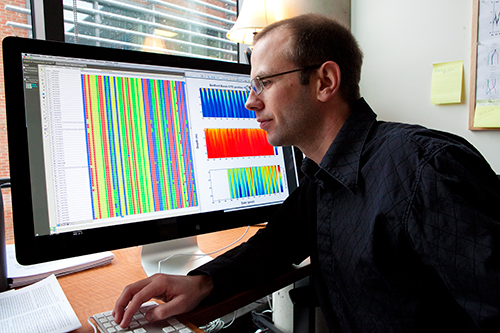 Environmental genomics researcher David Walsh is focusing on the tiniest ocean microbes to get a sharper picture of the impact of environmental change.

"Each litre of sea water contains thousands of species of microbes, which are a key factor in maintaining the planet's carbon cycle. They produce half the oxygen we breathe," says the Canada Research Chair in Microbial Ecology and Genomics. Understanding microbial reactions can help predict the consequences of environmental change.

That is why Walsh is researching ocean dead zones, found increasingly offshore of heavily populated areas. The phenomenon begins with agricultural runoff in the water supply. Microbes feast on the abundant nutrients, multiply rapidly, and eventually consume all available oxygen. The result is underwater dead zones incapable of sustaining fish and mammalian life, which compromises the carbon cycle. This reduces biodiversity and affects some food sources, such as shrimp.

The research project is supported by Concordia's Centre for Structural and Functional Genomics. This interdisciplinary centre combines experts in computer, social and pure sciences to focus on the function of genes. Through the centre, Walsh has access to an impressive computer system and a team of bioinformaticians to support the analysis of data from his research.

In another research project, he is collaborating with chemistry professor Yves Gélinas, studying microbes collected from the St. Lawrence Estuary. Ecological and genomic information is analyzed to evaluate how environmental changes affect microbes in relation to each other, and to other life forms. Walsh intends to develop a bank of data to understand how microbes respond to changes in their environment over decades. This will help researchers predict the impact of future environmental disturbances.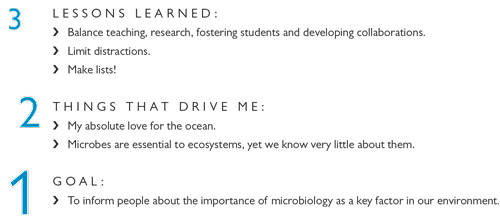 Related Link:
• President's Report 2011
---