Concordia Shuffle unites family
Eight-member Bergeron clan walk the walk for scholarships and bursaries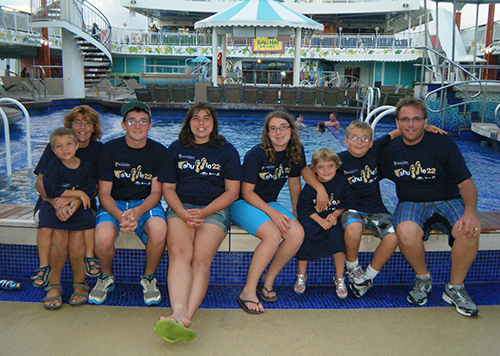 Serge Bergeron never misses an opportunity to take part in the Concordia Shuffle, the annual fundraising walkathon for student scholarships and bursaries, alongside his wife Nancy and their ever-expanding family. In fact, he's walked the walk 22 times since its 1990 inception.

Even in the womb, the Bergeron children took part in the Shuffle. "When my wife was pregnant with our first child, Elizabeth, we walked," he says, noting the Shuffle has become a Bergeron tradition as his family grew to six children.

"I've been involved with Concordia since I finished Cegep," says Bergeron, who holds a BComm and Executive MBA from Concordia and is the university's associate vice-president of Academic Operations. "One thing I've passed on to my children is my sense of commitment towards my university."

As the children — now aged between five and 17 — progressed from kindergarten through secondary school, Bergeron informed their teachers they'd miss a day of school every September to support a worthy cause and participate in the Shuffle.
While it's virtually a Bergeron code never to skip the event, unexpected circumstances interfered last year.

"We had scheduled a cruise to Bermuda a week before the Shuffle's usual date in the third week of September," he relates. Only after booking did they find out Shuffle 22 would take place on the 16th, much to the disappointment of the children.

To make up for missing Shuffle day fun and the Concordia Stingers' mascot, Buzz the Bee, Bergeron came up with a plan: "I ordered T-shirts in advance, and the day of the Shuffle we wore them on our cruise and Shuffled there instead."

When the Bergerons walk the good walk, they have one purpose in mind: coming together as a family to raise money for Concordia students.

"My children will go back to school the next day wearing their Shuffle T-shirts and tell their friends they helped Concordia students acquire scholarships and financial aid from the university."

The annual event also provides an opportunity to connect with other faculty members, staff, students and alumni. The Shuffle is "one day a year where an institution divided between two campuses and a multitude of departments can come together and remember that we are all one community," Bergeron says.

He also appreciates an afternoon away from the daily routine. "The evolution of my family is entwined with Concordia. That's significant for my children — it's helped them understand the importance of community building."

The Bergeron kids can usually be spotted during the pre-Shuffle exercise routine or high-fiving Buzz. As dad says, "If a five-year-old can walk from downtown to Loyola Campus, that sets a pretty good example for our own students, staff and faculty."

Related links:
• Shuffle 23
• Giving to Concordia



---