Wundergarden: Research, rewilding and recycling
Concordia's Wundergarden prepares to open second annual garden project to public later this summer
This year marks the second that Concordia University's Wundergarden will have a garden installation on display.

The Wundergarden, located on the patio of Loyola campus' CJ Building, is a semi-permanent outdoor space that acts as a living laboratory and displays projects that combine research, science and art.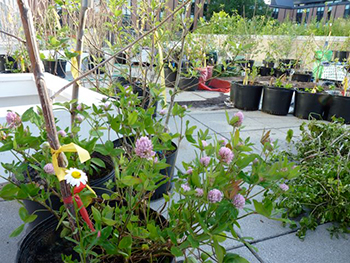 "The Wundergarden is kind of a hybrid art gallery and experimental research space," says Tagny Duff, a Communications Studies assistant professor whose work is featured in the Wundergarden this year. "What it does is bring together researchers and students from across Biology and also Communications Studies and some other areas of Fine Arts to do different types of projects on the CJ patio. Every year there's a different project and different people are invited to participate."

This year the Wundergarden is featuring three projects by Emma Despland, Nicole Fournier, and Tagny Duff.

Despland, a Concordia biology professor and researcher, MSc student Kalyani Rajalingham and a post-doctoral fellow, Darragh Ennis, have been using the poplar trees found on the CJ patio for a research project that tests which hybrid trees are more resistant to defoliation by caterpillars. The goal of Despland's research is to incorporate natural resistance against pests, thus avoiding pesticide use. The project, which is funded by iFor (The Federal, Provincial and Industry-funded Research Consortium), is part of Quebec's plan for sustainable forestry.

Nicole Fournier, the invited guest eco-artist and directrice of InTerreArt, is currently working on "Companions and Transformations", a project that involves the use of Despland's research trees.

"After experiments are done, the trees usually get terminated," explains Tagny Duff. "So this is her way of sustaining the research materials and also allowing the trees to continue thriving on the patio gallery."

Fournier will focus on rewilding the research trees, as well as other wild plants recuperated from the Concordia campus that are often considered weeds.

"She is trying to find a way to sustain them so that they can continue to grow on the patio with the least amount of human intervention possible," explains Duff.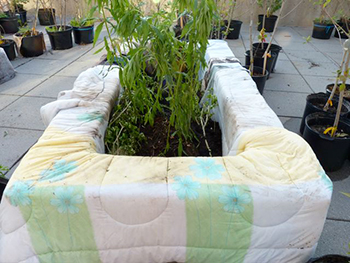 Fournier's project also involves the recycling of synthetic fibers such as clothing and bedding. The recycled materials are provided by Certex, a non-profit company that recovers and recycles clothing, shoes and used textiles, and are being used as an alternative to geo-textile synthetic materials.

"She's using these found objects instead of the kind of urban agriculture products you would normally buy and use for different types of plant growths," says Duff. "So instead of plastics and other types of harmful products, she is thinking about the relationship of recycling, using unusual materials for this kind of rewilding project."

Assistant Professor Tagny Duff's project, Viral BioreMEDIAtion, is a three year research-creation project funded by the FQRSC (Fonds de recherche sur la societe et la culture). The project looks at the interrelation between microbiology and digital media. Duff explores the interrelationship between mycelium, the root system of fungi, and the plants found in Wundergarden, using mycelium from Oyster mushrooms.

A reception will be held at the Wundergarden on September 13 and will feature all three projects as well as short Loyola Campus tours by Fournier and Despland.

"Nicole's going to be taking people on a tour of the campus, showing them sites where she found a number of different types of plant life and weeds, and she'll give a bit of an overview of the chemical and medicinal properties and why she chose them to be part of the rewilding project," explains Duff. "Emma Despland will give a tour of the trees because there are different types of hybrid trees. She'll explain the relationship between the different trees and how they're used in her experiments."

On September 14 there will be an informal panel discussion between Duff, Despland and Fournier, where they will talk about their research projects and the future of the Wundergarden.

The Wundergarden projects will be open for public viewing beginning next month.

Related Links:
• "New outdoor gallery opens" - NOW, September 28, 2011
• Fluxmedia
• InTerreArt
• Nicole Fournier
• Live Dining
• Wet Net
• Viral BioreMEDIAtion
• Le Consortium iFor
---