The importance of strategic communication
IABC/Montréal provides communication-based mentoring and networking opportunities to Concordia's graduate students
On Monday, June 18, the Montreal chapter of the International Association of Business Communicators (IABC) hosted the fifth annual Big Cheese Leadership and Learning event in Concordia's John Molson School of Business Building.
The evening lecture was part of a series of collaborative events between IABC/Montréal and Concordia's Graduate and Professional Skills, known as GradProSkills, which included a Mix and Mingle with Mentors event and the Three-Minute Thesis Competition earlier this year.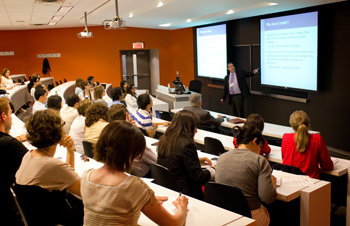 "Concordia is the first institution that we really approached this year for part of our strategy to use academic relations as a type of engagement platform," explains Sharon Hunter, president of IABC/Montréal. "It's sort of a two-way street because IABC's membership is quite senior and the majority of our members have 15 or more years experience in the business. It's part of IABC's strategy to help grow the next generation of leaders for our industry, so we do have a responsibility to reach out and to help mentor and share our expertise to guide the next generation.

"Our partnership with GradProSkills fits into their mandate which is to help develop the professional skills of graduate students to enter the workforce. So IABC's role in this partnership is to provide the communication aspect of that."
Monday night's event featured a lecture by Adrian Cropley, Chairman of IABC International. Cropley's speech, entitled Be the "Table," extolled the value of strategic communications to business and helping executives become better communicators.

Rather than aiming for a "seat at the table," Cropley said they should aim to engage others through communication, becoming the table that others want to sit at. He explained that employees need to show executives a return on investment for communication efforts.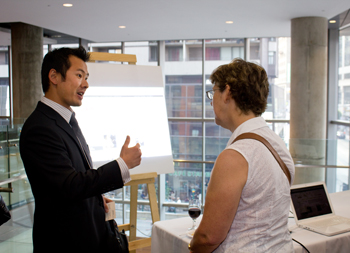 Also present at the event was Luc Beauregard, who spoke about the new Luc Beauregard Centre of Excellence in Communications Research opening at Concordia's John Molson School of Business.

The lecture was followed by a networking cocktail, where GradProSkills students had the opportunity to speak with members of the IABC/Montréal community.

Guangzhi Cai, who is studying for her Master's in Economics, explains the importance of events like this as a graduate student: "Personally I'm interested in networking and networking skills. I think this organization is interesting and the topic is kind of refreshing," Cai says.

"Before we enter into the labour force there are a lot of things we need to be aware of and this is for sure one of them. It's all about communications. We even have to use it during interviews; how to communicate our skills and abilities with our employers."

IABC/Montréal has a complete schedule of events planned for next year in partnership with Concordia's GradProSkills, including more mentoring and networking events, career panels and a professional journey video series.

IABC/Montréal offers student memberships at $50 per year. For more info, visit the IABC/Montréal website.
Watch the video:

Related links:
• GradProSkills
• Montreal chapter of IABC
• "Three minutes to win it" — NOW, April 17, 2012
• "New light on strategic communications" — NOW, April 20, 2012


---