PhD grad explored ways to improve physics teaching and learning methods
Xiang Huang excelled at science education research while looking after her daughter and adapting to life in Canada
For Physics PhD graduate Xiang Huang, life has been a challenge since arriving from China in 2008 to pursue graduate studies at Concordia.

Adapting to Canadian life and caring for her young daughter while attending university as a full-time student were no simple tasks, but her impressive 4.0 grade point average has made all her efforts worthwhile.
Huang, who has a bachelor's degree in physics and a master's degree in computer science, taught physics at a Chinese university for 11 years before moving to Montreal. Curious about the way students learn and wanting to further explore the field of physics education, she found Concordia to be the most suitable university for her research.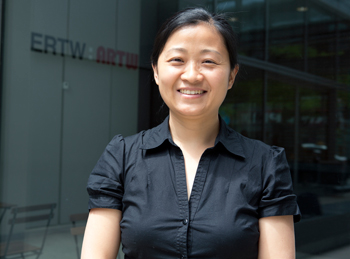 Her doctoral thesis pertains to scientific educational theory and focuses on effective ways of teaching physics. "I chose this subject matter because from my teaching experience I found that students often simply memorized equations without trying to understand the ideas behind them," she says. "I want to change the way they think."

Calvin Kalman, a physics professor and the principal of Concordia's Science College, supervised Huang's research and has high hopes for her future. "In every way she has shown herself to be an exceptional student – very keen and always developing s interesting questions," he says. "My interactions with Xiang Huang have been an absolute joy and I anticipate that she will have an extremely successful and fruitful academic career."

Her husband, an associate professor of mathematics in China, was in Montreal for her convocation. Together, they will also make a trip to Calgary where Huang has been invited to speak at the annual general meeting of the Canadian Association of Physicists.

Huang has started looking for a full-time position. Although she's unsure at this point whether she would prefer to teach physics or continue with research, she remains interested in the scientific educational theory.

"I want students to understand the concepts, to develop their scientific reasoning skills, to change their ways of thinking and learning," she says. "This has been the goal of my research at Concordia and this is what I will continue exploring."

Related links:
• Read about more 2012 Great Grads in the Faculty of Arts and Science
• Department of Physics, Graduate Studies
• Dr. Calvin S. Kalman

---