MFA graduate named 2012 Bronfman fellow
Interdisciplinary artist Julie Favreau used her concentration in sculpture to examine the relationships between people and objects
Master of Fine Arts graduate Julie Favreau is feeling pretty good these days. In addition to earning her MFA in Studio Arts, she has obtained a plum two-year fellowship that will help her greatly as she launches her career. She also made the long list for the Sobey Art Award — Canada's pre-eminent prize for a young Canadian artist.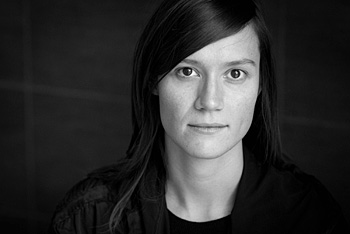 Looking relaxed a few weeks after being named the Concordia recipient of the 2012 Claudine and Stephen Bronfman Fellowship in Contemporary Art (worth approximately $55,000), Favreau reflected on her last few years.

"I think in 3D all the time," says the interdisciplinary artist and "sculpture is a medium of mise en scène, of putting bodies and objects in space."

Favreau decided to specialize in sculpture within Concordia's MFA in Studio Arts program specifically to learn how to best build the things she wanted in her projects, which incorporate installation, sculpture, performance, photography and video art.

Objects are central to her research/creation. "I'm questioning how we interact with objects," says Favreau, whose work is also influenced by experimental theatre and dance. "I want to explore how characters affect the objects that surround them, as well as the other way around."

Born and raised in a Quebec City suburb that she found bereft of the type of philosophical thinking in which she wanted to engage, Favreau sought a way out via art. She earned her Bachelor in Fine Arts from the Université du Québec à Montréal. Five years later, she looked to Concordia to better understand the anglophone world and to see art from a different perspective.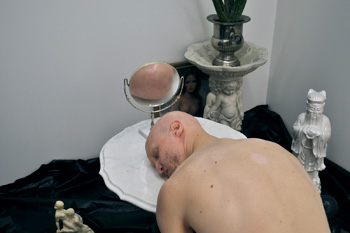 During her studies at Concordia, she also completed four residencies, including 12 weeks in Paris as part of the Résidences croisées France-Québec arranged with the Fonderie Darling Foundry-Quartier Éphémère. Her work has been presented at exhibitions, festivals and in stage performances, such as the Québec Triennial 2011 organized by the Musée d'art contemporain de Montréal, and at the Goodwater Gallery in Toronto.

While flourishing in the outside art world, she nevertheless appreciated the honest, in-depth advice the academic milieu provided to her.

The feedback helped Favreau to take her work to another level and to begin to receive grants and that enabled her to forego the jobs at bars that had funded her way through school for 10 years.

That's why winning the Bronfman fellowship is such a huge deal. It will help her to develop her professional practice, undertake and exhibit her research/creation, and expand her teaching experience. "I have the feeling I can unpack, unfold," she says.

Not that she regrets her decade of working in various bars. She says it gave her invaluable insight into the human experience that she wouldn't trade for anything, especially since much of her work is about relationships.

Favreau is currently funnelling that insight, along with the skills and experience she acquired at Concordia, into work for two upcoming exhibitions, and appreciating what she has learned.

"I feel like I'm armed now to conduct research, speak with curators, and contribute to the academic world," she says.

Related links:
• Read about more 2012 Great Grads in the Faculty of Fine Arts
• Julie Favreau
• "Support for Promising Fine Arts Students" — NOW, May 4, 2012
• The MFA in Studio Arts
• Meet students of the MFA in Studio Arts



---