Finance graduate encourages students to find mentors
Valedictorian Michael Knight credits his cousin, Jim Book, for guiding and supporting his impressive academic career
Michael Knight has learned not only the value of financial investing, but what it means to invest in a person.

"I really attribute my accomplishments to my cousin Jim and his family," he says.

Born in Ottawa, but raised in Vermont, Knight's route to Concordia was a winding one. It began with his passion for the culinary arts, but ultimately led to him applying to the John Molson School of Business (JSMB) on the advice and support of his cousin and mentor, Jim Book.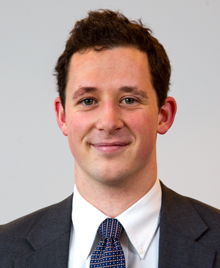 "I think young people today are pressured into knowing what they want to do in life at an early age which, looking back, never made sense to me," Knight says. "I changed my mind on what I seriously considered my life path at least four times, but after each change I became more confident in my future."

"Jim was professionally involved with finance and, wanting to be like him, I asked for some advice," Knight further explains. "He motivated me to get into business, gave me my first internship, and connected me to the proper people for the internships that followed. His family housed and fed me for two summers in a row, and he has been my guide for many years."

Book's advice was sound, and his support invaluable. In addition to graduating with a Bachelor of Commerce, with a major in finance, Knight completed the Kenneth Woods Portfolio Management Program (KWPMP). Launched in 2000, KWPMP provides a select group of undergraduate finance students with real-life training in investment management by working with a portfolio worth more than $1 million.

Graduates of the KWPMP are made Calvin Potter Fellows in honour of the professor in charge of the Department of Finance when KWPMP's founder, Ken Woods, was completing his MBA at the university.
This accomplishment, along with graduating with distinction, led to Knight being named as one of two valedictorians for the spring convocation ceremonies for the John Molson School of Business.

"I cannot place enough emphasis on how much experience the program provides for the students," Knight says when asked what specifically attracted him to KWPMP. "From regular seminars with top industry professionals, meetings with the KWPMP Client Committee, at least two internships with prominent employers, these things make all the difference when you are at the interview table."

Knight's hard work has paid off career-wise, too. He has already accepted a position with Bank of America Merrill Lynch in New York City as part of the company's 2012 Analyst Class.

Knight encourages other students to find mentors and sources of inspiration like his cousin Jim.

"Reach out to people, and pick someone you want to impress," he advises. "This catalyst alone transforms what you once thought was impossible into an attainable goal."

Related links:
• Read about more 2012 Great Grads in the John Molson School of Business
• More about Michael Knight and the other 2012 Kenneth Woods Portfolio Management Program students
• Kenneth Woods Portfolio Management Program
• John Molson School of Business




---